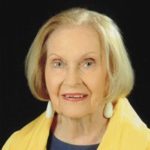 Virginia "Ginny" McBride Smith, 95, of Mooresville, N.C., passed away on Friday, February 28, 2020.
She was born on November 28, 1924, in Lexington, N.C., to the late James and Lissie Tesh McBride. Mrs. Smith was a graduate of Lowrance Hospital School of Nursing. She was a retired Registered Nurse at Lowrance Hospital in Mooresville. She was a member of the Mooresville ARP Church.
In addition to her parents, she was preceded in death by her brothers, James McBride and Samuel McBride.
He is survived by her son, Erskine Smith Jr. and wife Connie; brother, John McBride (Doris); sister-in-law, Donese McBride; grandsons, Branch Smith (Misti), Matthew Smith (Lindsay Rose), and David Smith; and great grandchildren, Collins, Della James, Guy, and Norah.
A graveside service will be held at 10 a.m. on Tuesday, March 3, at Willow Valley Cemetery in Mooresville. A Memorial service will follow at 11 a.m. at Prospect Presbyterian Church with Rev. Gerald "Jerry" R. Hallman and Rev. Will Gipe officiating. The family will receive friends immediately following the service at the church.
Memorials may be made to Prospect Presbyterian Church Building Fund, 9425 W. NC 152 Highway, Mooresville, NC 28115 or Gordon Hospice House, 2347 Simonton Road, Statesville, NC 28625.
Cavin-Cook Funeral Home & Crematory, Mooresville, is serving the Smith family. Condolences may be made to the family at www.cavin-cook.com.