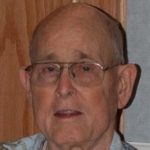 Charles "Martin" Johnson Sr., 82, of Mooresville, N.C., went to be with our Lord and Savior on Wednesday, July 29, 2020.
Martin was a hard worker and servant to others. He loved his family dearly. He was never one to complain, and he did whatever needed to be done. Everything he did, he did for his family. His dedication to his wife, Barbara, was admirable and apparent to all who knew him. During Barbara's long battle with Alzheimer's, he bent over backwards to be with her and care for her. Like Barbara, Martin was known for his red velvet cakes. He enjoyed baking, helping others, and spending time with his family. He was the head biscuit maker at the Working Fingers Festival for 20-plus years, where everyone enjoyed his sausage and country ham biscuits.
Born on March 3, 1938, to the late John Chester Johnson and Lois Renegar Thompson in Mooresville, he was raised here in Mooresville and graduated from Mooresville High School in 1956. He attended Mars Hill University, where he met the love of his life, Barbara Branyon. They married in 1958, and they settled to raise their family in Mooresville. They were married 57 years before Barbara's death in 2015. Martin and Barbara were long time members of First Baptist Church of Mooresville.
After college, Martin joined his father at the company he'd created, Rollie Martin Company, as a warehouse manager. Afterward, he went on to work as manager for the McDonald's Corporation for 25-plus years. Martin was also a retired member of the Air National Guard and also served the community as a Boy Scout Leader.
Martin is survived by his four children, Marty (Sherri) Johnson of Knoxville, Tenn., Sandy (Ron) Cox of Mooresville, Chris (Ann) Johnson of Charlotte, N.C., and Wendy (Jamie) Alexander Shinn of Mt. Ulla, N.C. He is also survived by his 13 grandchildren and his nine great-grandchildren.
He was preceded in death by his brothers, Rollie Johnson and Donnie Johnson, and his son-in-law Darin Alexander.
Graveside service will be held at 3 p.m. on Friday, July 31, 2020, at Willow Valley Cemetery, Mooresville.
For those who are unable to attend the graveside, you may go to the following link for the live stream
https://www.facebook.com/CavinCookFuneralHomeServices/
In lieu of flowers, memorials may be made to Alzheimer's Association, 4600 Park Road, Suite 250, Charlotte, NC 28209 or Hospice & Palliative Care of Iredell County, 2347 Simonton Road, Statesville, NC 28625.
Cavin-Cook Funeral Home & Crematory, Mooresville, is serving the Johnson family.