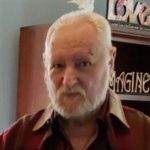 Clarence Woodrow Hutchinson Jr., 74, of Mooresville, N.C., died Wednesday, May 13, 2020. He was born in Glen Jean, W.Va., on December 3, 1945 to the late Clarence W. Hutchinson Sr. and Nellie Margaret Stover Hutchinson.
Clarence was a punch press operator with Industrial Dynamics for many years. He loved Jesus, enjoyed watching Jimmy Swaggart, fishing, going to the mountains and beach, and his furbabies, Rocky, Mugzi, Mimi and Emmie. More than anything, he loved his family.
Those left to cherish his memory include his wife of 49 years, Caryn Garrett Hutchinson; two sons, Brian Hutchinson (Kelly) and Shayne Hutchinson; a daughter, Dana Hutchinson Hemric; four grandchildren, Haven Hemric and Khylie Hemric, Caleb Hutchinson and Kayla Hutchinson; two brothers, Charles and David Hutchinson; and many cousins.
There will be no formal services held.
Nicholson Funeral Home is serving the family.