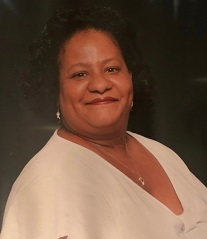 Mrs. Clarice Portia Hatker, affectionately known as "Ree-Ree," daughter to the late Stephen Junius Bowman and the late Gertrude Ruby Falkner Bowman, was born on November 19, 1960, in Brooklyn, N.Y. New York. She departed this life on Monday, November 9, 2020, at Forsyth Medical Center with her family by her side.
Clarice graduated from Satellite Academy in Brooklyn in 1979. She later moved to Statesville, N.C., in 1999, where she began her career as a sales associate for Walmart.
Clarice leaves to cherish the memory of her life her husband Frank Hatker of Statesville; son, Leonard J. (Tiffany) Holland; son, Isaac Holland of Queens Village, N.Y.; son Lavarus Holland; two granddaughters, Bryanna Holland and Mecala Holland; two grandsons, Leonard J. Holland III and Camdyn Holland; three sisters, Claudia (John) Alton of Queens Village, Alnethia (Royston) Perrin of Queens, and Stephanie Bowman of Statesvile; one brother, Roger Bowman of Statesville; and a host of nieces, nephews, cousins and friends.
Online condolences may be left for the family at www.bunchjohnsonfuneralhome.com.
Bunch-Johnson Funeral Home is serving the family.