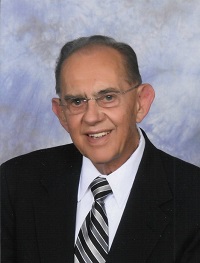 Sadly, we announce the passing of our dear husband, dad, and Papaw. Clyde Wilson White died at home with his family by his side on March 31, 2020, at the age of 90. He was born August 17, 1929, the second oldest of nine children to John Albert White and Connie Lamira Brown White.
Wilson grew up during the Depression on a farm in Iredell County, N.C., picking cotton and share cropping. His love for farming continued throughout his life. He graduated from Harmony High School in 1947 and then worked for Southern Bell Telephone Company for 25 years, initially as a lineman, working his way up to engineer before leaving to pursue other business interests.
He was a Korean War veteran, proudly serving his country in the United States Army from 1952-1954, and was honorably discharged as a sergeant first class. Upon receiving the Commendation Ribbon with Medal Pendant his commanding officer cited him in a letter as follows: "Sergeant First Class Clyde W. White, Artillery, United States Army, Headquarters Battery 171st Field Artillery Battalion, 45th Infantry Division, is cited for meritorious service in Korea. Originally assigned as a radio operator, Sergeant White then became a radio section chief and finally rose to communications chief. His superior knowledge of signal operations and desire to help his men at all times were important factors in molding a highly efficient communications system for the battalion. On several occasions, Sergeant White was called upon to work many extra hours under adverse conditions, but he did so with complete disregard of his own personal needs and in every case the results of his efforts were superior. The undaunted devotion to duty displayed by Sergeant White reflects high credit on himself and the military service."
Wilson was a co-owner of Beaver's Country Store for many years, and later founded Fort Dobbs Hardware, through which he touched many lives. Wilson was known for always being able to solve any problem a customer had. They enjoyed his dry wit and creative stories. He worked six days a week until he was 86 years old, opening and closing the store every day.
He became a member of Hebron Baptist Church at the age of 14, when he was saved under the Arbor. He served faithfully and passionately in the church as a Sunday School Teacher, Deacon, Church Training Director and many other capacities. He invested in the lives of his church family and loved them dearly. If the church doors were open, Wilson was always there.
Wilson was very devoted to his community, serving in many ways. He was actively involved in the East Iredell Lions Club for over 60 years, serving as president and zone chairman for many of those years, and he received the Jack Stickley Fellowship Award, North Carolina Lions Foundation's Highest Honor. His favorite fundraising events to benefit the blind included the Community Ham Breakfast, the White Cane Drive and the Cool Springs Fiddlers Convention.
He was elected to the Iredell County Board of Education for 12 years, and served as Chairman for four years. Wilson was instrumental in the location and building of North Iredell High, South Iredell High and East Iredell Elementary. He was a past president of Iredell Water Corporation, where he served many years. His desire to further his education while working led to the commencement of night classes at Mitchell Community College.
Wilson understood that life is essentially about the simple things — love, laughter, and commitment. He was our rock that never wavered throughout the years. Once Wilson became your friend, he was always your friend. He found joy in what many people would consider work. He loved baling hay, mending fences and tending to his black angus cows on his farm. He loved the Lord, his family, and doing for others.
He is survived by his loving wife of 68 years, Norma Sue Coley White, whom he married on July 12,1952; his son Mark Wilson White; his daughter Mary-Todd White Little (Mark); his daughter Abby Gale White Patterson; grandchildren Jessica White Burns (Joe), Jordan Witherspoon (Spencer), Caleb Little, Drew Patterson, and Will Patterson; and great granddaughters Joanna Burns and Coley Witherspoon. He is also survived by siblings Wilma Gooden, Pressly White, Johnsie Hayes, and Harry White, and was preceded in death by siblings Doyle White, Ervin White, Elvira Jensen, and Edward White.
The family would like to express their heartfelt gratitude to Drs. White, Bouhussein, and Johnson, the nurses at Iredell Memorial Hospital on 2 North, and Hospice and Palliative Care of Iredell County for their compassionate care.
How do you encompass his life in just a few paragraphs? He touched so many lives and helped so many people; it is impossible to do. What we need to know is that he loved God and put Him first, always. He tirelessly worked to provide for his family and the betterment of his community, doing things without recognition. His passing leaves a big hole in our hearts. We are grateful to God for the gift of Wilson in our lives. God gave him to us, and now we give him back. He will truly be missed by many, but we will get through it — like he always said — "one day at a time."
A private graveside service will be Sunday, April 5, at Hebron Baptist Church and a Celebration of Life service on a later date. In lieu of flowers, memorials can be made to Hebron Baptist Church, 175 Hebron Road, Statesville, NC, 28625. The body will lie in state in the Chapel of Troutman Funeral Home, 345 N. Main Street, Troutman, N.C., on Friday and Saturday from 12 to 6 p.m.
Troutman Funeral Home is serving the family.