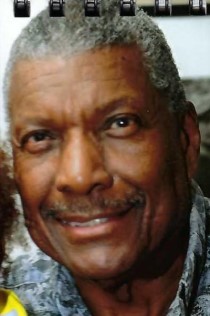 In loving memory of Conrad Richard Dawson, who passed away peacefully in his home on the 21st of December, 2020, at age 78. His wife of 41 years, Bettie C. Dalton preceded him in death on the 16th of December, 2016.
Mr. Dalton is survived by son, William and his wife Kaori Dalton of Georgia; and grandchildren, Ashley, Justin, and Ryan; his daughter, Tamala and her husband Glenn Anderson of Japan, and grandchildren, Caleb, Sarah, Anastasia, Bettie-Ramona and Candace.
He was born in Statesville, N.C. on the 1st of August, 1942. Conrad was the son of the late Rodney and Inez Dalton. He was the last surviving child. His siblings in the order of their birth are the late Thellena Horne, Tommie Alexander, Rodney Dalton Jr., Donald Dalton and Robert "Bob" Dalton.
Conrad is survived by nieces, nephews, cousins and in-laws whom he loved dearly.
Conrad Dalton graduated from Morningside High School, Class of 1960, in Statesville and then went on to Shaw University in Raleigh, N.C., where he later enlisted in the United States Air Force. He worked as a security policeman during the Vietnam War.
His true passion was photography, which he pursued professionally for over 40 years. Mr. Dalton retired from Hunt Mfg.Co. after 22 years of service as a managerial supervisor. He returned to security enforcement with Wackenhut and G4S Companies for over 15 years before truly retiring in 2018.
Conrad was a longtime member of Trinity Episcopal Church. He received Jesus Christ as his Lord and Savior in January 1995 at Believer's Faith Center Church in Statesville, where Conrad and Bettie served faithfully for over a decade.
We want to thank our family, friends and community for the outpouring of love, care and concern during this time.
Anyone wishing to sign the registry and leave thoughts of comfort for the family may do so at Bunch-Johnson Funeral Home from Monday, December 28, 2020, until Thursday, December 31, 2020, from 9 a.m. to 4 p.m.
A private graveside service will be held at Salisbury National Cemetery on Tuesday, January 5, 2020.
Online condolences may be left atwww.bunchjohnsonfuneralhome.com.
Bunch-Johnson Funeral Home is honored to be serving the Dalton family.