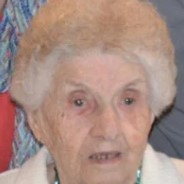 Ruth Johnson Ervin, 100, of Mooresville, N.C., passed away on Sunday, December 27, 2020. She was born on March 30, 1920, in Davidson, N.C., to the late Charlie and Carrie Winecoff Johnson.
Mrs. Ervin was a lifelong member of Shearer Presbyterian Church.
In addition to her parents, she was preceded in death by her husband, Homer Lee Ervin; sisters; Susie Eagle, Annie McAllister, and Rosie Johnson; brothers, George Johnson, James Johnson, Lewis Johnson, Kenneth Johnson, and Melvin Johnson.
She is survived by her daughters, Phyllis Overcash and Judy Wyatt; grandchildren, Lisa Eakes, Jeff Wyatt, and Hannah Wyatt; great grandchildren, Blake Eakes, Alex Eakes, Amber Safrit, Jordan Thompson,Tristan Wyatt, Gracyn Wyatt, and Rhylee Wyatt-Styron; great-great grandchildren, Ashtyn Simpson, Dominic Simpson, Alice Thompson, and Wickham Thompson.
A graveside service will be held at 2 p.m. on Wednesday, December 30, 2020, at Glenwood Memorial Park with Rev. Steve Stout officiating. For those who are unable to attend the graveside, you may go to the following link for the live stream: https://www.facebook.com/CavinCookFuneralHomeServices/
In lieu of flowers, memorials may be made to Shearers Presbyterian Church, 684 Presbyterian Church Road, Mooresville, NC 28115.
Cavin-Cook Funeral Home, Mooresville, is serving the Ervin family. Condolences may be made to the family at www.cavin-cook.com.