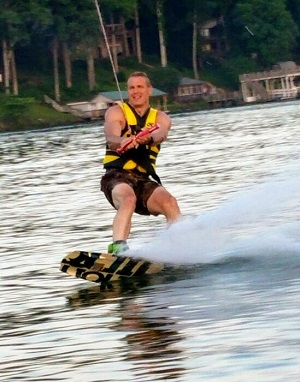 Curtis "Curt" Allen Wuellner, 50, of Statesville, N.C., passed away unexpectedly Saturday, August 8, 2020.
Curt was born May 21, 1970, in Monroe, Ohio, to the late Clarence "Clancy" Robert Wuellner and Jane Blanch Albaugh Pyle. He was a graduate of Spring Valley Academy and Walla Walla University. On November 18, 1995, he married Kimberlee Ann Cassingham Wuellner and together they have twin sons, Brixon and Jaxon.
Curt was a mechanical engineer for Daimler Trucks of North America for 26 years and a member of the Seventh-Day Adventist Church in Statesville, where he served as the Head Deacon. He also enjoyed spending time with the youth of the church and took a concerted interest in each of their lives.
Curt was his family's rock. He loved his boys, his dog, being on the lake, teaching wake boarding, watching sailing vlogs, building things and music (especially country and blues!). His ongoing passion was providing and building his home for his family, which he completed in 2018. He could build, rebuild and fix anything. His biggest accomplishment this summer was building a rope swing with Brixon at the lake — and then successfully landing a back flip off of it (at the age of 50!) and helping Jaxon to do the same. Regardless of his own accomplishments, he was most proud of his boys and their accomplishments. Curt did his utmost to prepare them for the world of being a man. His legacy will live on in the lives of his sons and all the young people he positively influenced.
In addition to his wife, Curt is survived by twin sons, Brixon Jake Wuellner and Jaxon Elwood Wuellner, both of Statesville; his yellow lab, Hank; one sister, Angela "Angie" Freund (Don) of Richmond Hill, Ga.; one brother, Michael "Mike" Wuellner; one nephew, Jack Freund; three nieces, Madison Freund, Emily Wuellner, and Mallory Wuellner; step dad, Roger Pyle; and step mom, Joan Rowland; and many loving cousins, aunts and uncles.
Both a private family service and a memorial visitation for friends will be held, dates to be announced.
In lieu of flowers, memorials may be made to the Memorial Education fund for Brixon and Jaxon online at GoFundMe.com. Online condolences may be left for the family at www.troutmanfuneralhome.com.
Troutman Funeral Home is serving the family.