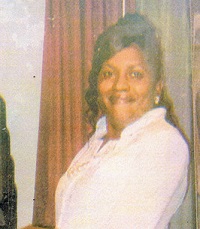 Mrs. Darlene Lenee Dalton, affectionately known as "Tina," was born in Iredell County on January 1, 1968. She entered into eternal rest on July 22, 2020. She was the daughter of the late Jannie Louise Swift-Smyre and Johnny Smyre. She was also preceded in death by her infant son, Hurel Burch Jr.; her grandmother, Ulla Bell Swift; one great aunt, Lula Mae Griffin; one aunt, Linda Smyre; two uncles, Roy Imes and Donald Ray Smyre; one nephew, Joseph Parsons Jr.; one niece, Tey'Honnah Dye; four cousins, Rebecca Wallace, Henrietta Griffin, Gregory Swift and Vince Deshawn Parks; a special aunt, Andrea Jordan; one sister-in-law, Elizabeth Booe; and one brother-in-law, Early Vince Booe III.
Darlene attended D. Matt Thompson School and was a member at Mt. Nebo Baptist Church in Harmony, N.C. She was a homemaker for many years and greatly enjoyed spending time with her family. In her spare time, she loved cleaning as well fishing, playing cards or casino with family and friends. She also liked playing Candy Crush and loved music, but most of all she enjoyed dancing and making memories with her family! All she talked about was her family and how she loved them.
In addition to her loving husband, Robert L Dalton, survivors include four children, Tiylisa (Troy) Smyre, Christina (Cameron) Cuthrell, Michael (Cierra) Swift, and Olandis (Larissa) Chambers Jr.; two additional children by marriage, Derrick (Angel) Dalton and David (Shala) Dalton; ten brothers, Tony Swift, Franklin (Keenan) Smyre, John Smyre, Brian Smyre, Roger (Victoria) Smyre, and Roy (Serena) Smyre, Corey Smyre; three sisters, Natasha (James) Smyre, Tamika (Marvin) Caldwell, and Regina (Joseph) Parsons; and Calvin Smyre, Thomas (Darrius) Swift, and Anthony Smyre. Additional survivors include, special mother Patricia Ann White, special brothers and sisters, Sara Moss, Michael Moss, Morris Frasier, Talicia Brown, and Shannon Brown; two aunts, Louise (Larry) Imes and Mamie Lou Parks; three special cousins, David Lawrence, Penny (DeeDee) Kimbrough, and Josephine (Brian) Jones; two nieces whom she raised, Candice Pinkney and Daphanie Smyre; twelve grandchildren, Chan'Taieya Dulin, David Dalton, Aaron Dalton, Dorian Dalton, Ashley Dalton, Cha'Rez McGee, Shaira Tillery, Peyton Cuthrell, Samirra Swift, Nirvana Mills, Ameah Chambers and Michael Swift Jr.; and a great granddaughter Avi'Yona Dulin; four close friends, Monique Tazewell, Betty Frasier, Deshon Stovall and Kay Lewis; and a host of nieces, nephews, cousins, other relatives as well as special friends.
A funeral service is scheduled for 2 p.m. on Tuesday, July 28, 2020, at Mt. Nebo Baptist Church,
605 W. Memorial Highway, Harmony, N.C., with internment at Shephard Church of God, Charlotte Highway, Mooresville.
Rutledge & Bighham Funeral Home is serving the family.