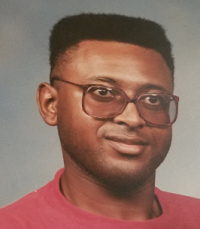 Mr. Darrin Keith Steele, 58, of Harmony, N.C., was born on April 18, 1965, and was the son of Janet Dalton Steele and the late Leroy Steele. He departed this life on Thursday, June 18, 2020, at Accordius Health at Salisbury following an extended illness.
He was a graduate of North Iredell High School and was a member of Mt. Nebo Baptist Church of Harmony.
In addition to his mother, he leaves to remember and celebrate the blessing of his life one sister, Felisa (Leon) Simington of Waxhaw, N.C., and a host of aunts, uncles, other relatives, and friends.
Celebration of Life Services will be conducted at 2:30 p.m. on Saturday, June 20, 2020, at Mt. Nebo Baptist Church Cemetery. Reverend Norman Dudley will officiate.
Rutedge & Bigham Funeral Home is serving the family.