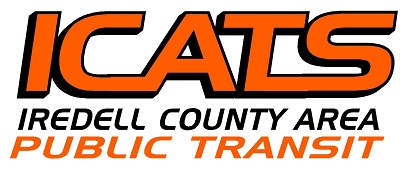 Special to Iredell Free News
ICATS Transit, Iredell County's public transportation system, announces that two of ICATS Transit's fixed routes will resume service effective Monday, June 22. The Statesville Bloom and the Mooresville Main will both operate Monday though Friday.
Schedules are subject to adjustment based on passenger demand. Passengers are requested to follow COVID-19 safety protocols, including safe distancing and the use of masks.
ICATS Transit encourages safe practices for our drivers and passengers, especially during this COVID-19 period. These practices include maintaining distances of at least six feet apart, frequent hand washing, and the use of gloves, masks, and disinfecting solutions at home, work, and on vehicles. By using these safe practices and temporarily eliminating fare interactions on board, ICATS Transit hopes to help keep our passengers and personnel safe.
About ICATS Transit
The Iredell County Area Transit System (ICATS), commonly known as ICATS Public Transit, is the public transit provider for Iredell County and the surrounding greater urban and rural region. While transit systems around the country, including the Charlotte transit system, have seen dramatic decreases in passenger numbers over the last several years, ICATS Transit has continued to grow annually. With a growing fleet of 29 vehicles and 40 drivers, ICATS Transit provides fixed-route scheduled transit bus service in and between Statesville and Mooresville. Scheduled express bus services also operate weekdays between four park-and-ride lots in Iredell County, connecting with the Charlotte transit system in suburban Charlotte. ICATS Transit also operates a network of paratransit services connecting passengers and destinations around and beyond the county, including a weekly shuttle to the VA hospital in Salisbury. All ICATS Transit vehicles are ADA-accessible, many vehicles in the fleet now have bike racks for passenger use. More information and schedules are available at rideicats.com and the ICATS Facebook page.