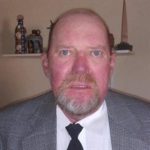 Dewey Vestal Williams Jr., 62, of Statesville, N.C., passed away on Sunday, March 15, 2020, at Iredell Memorial Hospital.
Vestal was born February 28, 1958, in Iredell County and was the son of the late Dewey Vestal Williams Sr. and Esther Steele Williams. He attended D. Matt Thompson and he was formerly employed with Ostwalt Roofing.
Vestal was an all-around fun-loving man. He loved to fish and watch NASCAR. He especially enjoyed watching reruns of Gun Smoke and Bonanza. His real joy came out of watching wrestling, never rooting for the "bad guy." Although the latter years of his life were hard and tiresome, he struggles no more. He has finished the race.
In addition to his parents, he was preceded in death by one brother, Ronnie Williams; a sister, Wanda Kay Williams; and a special nephew, Curtis Dagenhart.
Left to cherish his memory are two sisters, Joann Benfield (Steve) and Doris Campbell (Steve), both of Statesville; and one brother, Donnie Williams of Arkansas. He is also survived by his best friend and caregiver, Terry Dagenhart of Statesville; 10 nieces, Melinda Millsaps, Jennifer McMillan, Patricia Riggs, Terri Maclean (Jonathan), Nancy Pigeon (Jonathan), Jackie Riggs, Brooke Williams, Sharon Welborn (Gary), Tiffany Williams and Leann Shoemaker; along with two nephews, Randy Moose and Donallen Williams. He is further survived by his extended family, Chris, Missy and Kim Dagenhart, and his K-9 companion "Pal."
A service to celebrate the life of Vestal Williams Jr. will be conducted at 6:30 p.m. on Thursday, March 19, 2020, in the Nicholson Funeral Home Chapel with Rev. James Lewis officiating. The family will speak with friends for one hour prior to the service.
Online condolences can be made to the family at www.nicholsonfunerals.com and Nicholson Funeral Home is serving the family of Vestal Williams Jr.