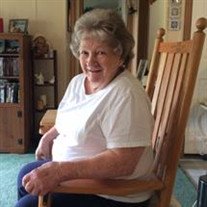 Mary Elizabeth Fink Morrow, 79, of Statesville, N.C., passed away on March 15, 2020, at her home unexpectedly.
Mary was born in Iredell County on November 6, 1940, to the late James Monroe and Mary Lackey Fink.
Mary was a hard worker and had a great work ethic. She loved gardening, flowers, coloring books, doing puzzles, cooking and drawing. She cherished and enjoyed spending time with her grandchildren.
In addition to her parents, she was preceded in death by siblings, Billy "Bus" Fink, James "JC" Fink, Mebane "Red" Fink, Robert "Bob" Fink, Katherine "Kat" Harris and Janie Johnson.
Left to cherish her memory are her children, Necie (Mark) Rimmer, Karen Morrow and Russell (Maria) Morrow; grandchildren, Andy (Mikayla) Rimmer, Haeley Rimmer (Jessi Robinson), Adam Inman, Maddie Morrow, Elizabeth Morrow and Samuel Morrow; sisters, Betty Williams and Revonda "Bonnie" Hager; and many other loving family members.
A private family services will be held at a later date.
Memorials can be made in American Heart Association or to the American Diabetes Association.
Memories and condolences may be left for the family at www.nicholsonfunerals.com. Nicholson Funeral Home is honored to be serving the Morrow Family.