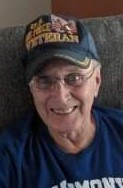 Donald Henry DeGrave, 75, of Statesville, N.C., formerly of Illinois, passed away Wednesday, January 15, 2020, surrounded by his loving family, Donna DeGrave Doby, Gloria Heebsh, Henry Doby, Tricia and Mike Martinez, Diana and Ryan Potts, Amanda Gomez-Doby, Chris Sykes and several great-nieces and great-nephews, whom he loved as his own grandchildren.
Born on January 1, 1945, in Burlington, Wis., he was the son of the late Henry L. DeGrave and Betty L. Church DeGrave. Donald proudly served in the United States Air Force during the Vietnam War. After his discharge, he went to work with The Commonwealth Edison Power Company, where he began as a meter reader, working his way up in the company to inspector and retired after 31 years of service. He loved Aerial patrols by helicopter with his job.
Never meeting a stranger, Donald touched many lives by helping others, talking to them and making them laugh. He enjoyed eating ice cream and mowing his lawn – it was his pride and joy. He was considered a very lucky man, having won a Dodge Viper after spending 50 cents in Las Vegas. Also, fishing in a popular lake that was thought to be empty of trout, Don caught the biggest brown trout ever. Donald's family will continue to share his memories as well as those that preceded him.
His family includes his parents (deceased); siblings, Dennis (deceased), Douglas and Phyllis DeGrave, Duane and Elsie DeGrave, Debra and Gary Gist, Diane DeGrave and Donna DeGrave Doby. Additional family are many nieces, nephews, great-nieces, great-nephews, aunts, uncles, cousins and many friends.
The family will receive friends Saturday, January 18, 2020, from 4 to 6 p.m. at Bunch-Johnson Funeral Home, 705 Davie Avenue. Statesville, N.C., with a Celebration of Life service beginning at 6 p.m. in the funeral home chapel. Donald will be taken home for services to be held Saturday, January 25, 2020, from 1 to 2 p.m. and funeral at 2 p.m. at Sunset Funeral Home and Memorial Gardens located at 8800 North Alpine Road Machesney Park, IL 61115 with burial to follow.
The family would like to express their sincerest gratitude and appreciation to the Care Angels (Bonnie Carr, Melissa Robinette, Kayla Keiper and Tricia Martinez) for their exceptional care given to Donald and their family. In lieu of flowers, memorial donations may be made to the Auto-Inflammatory Alliance P.O. Box 590354 San Francisco, CA 94159.
Online condolences may be left at www.bunchjohnsonfuneralhome.com or www.sunsetfhmemgardens.com.
Bunch-Johnson Funeral Home of Statesville, N.C., and Sunset Funeral Home and Memorial Gardens of Machesney Park, Ill., are honored to be serving the DeGrave family.