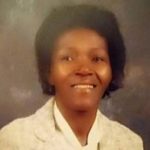 Mrs. Dorothy Louise Maxwell Black, 85, was born in Iredell County on June 13, 1934, and was the daughter of the late Matthew and Ethel Rucker Maxwell. She departed this life at Accordius Heath at Statesville on Saturday, February 22, 2020, following an extended illness.
She was a graduate of Morning High School and attended Port Herdin College in Michigan. She was employed by Uniglass Industries for several years and was a member of First Baptist Church, where she was a former Choir member. She was once a member of the Elks and the Eastern Star.
In addition to her parents, she was preceded in death by her husband, Charlie Ezell Black; one son, Sheryle Dewayne Maxwell; one daughter, Lynn Gomillion; two brothers, Richard Maxwell and Harold Maxwell; two sisters, Frances Maxwell and Mary Gillespie; and a grandson, Maurey Wasson.
She leaves to cherish and remember the blessing of her life five sons, Brandon (Sharon) Gregory, Timothy (Veronica) Black Sr., Richard Black, Shawn Gregory and Justin Gillespie; three daughters, Karen Lauderdale of Harrisburg, Pa., Gwen Gregory Robinson of Baltimore, Md., and Peggy Oliver Chambers of Statesville; a daughter-in-law, Cheree Mott Maxwell of Statesville; two sisters, Gwendolyn (James) Turner of Statesville and Beatrice (Craig) Dalton of Hephzibah, Ga.; twenty grandchildren, RaShida Lauderdale, Oliver Robinson, Timothy E. Black Jr., Candice Gregory, Tiffany Gomillian, Treston Black, Takia Black, Tyra Black McMillian, Quonton Gomilliom, Joseph McCorkle, QuaShawn Wilson, Aneshia Wilson, Peyton Rinehardt, Kameron Black, Marcus Little, Quandra Terry, Michael Terry, Kenny Terry, Sharon Wasson and Sheldon Wasson; and a host of nieces, nephews, cousins, other relatives and friends.
Celebration of Life Services will be conducted Friday, February 28, 2020, at 1 p.m. at The Mary B. Bigham Memorial Chapel of Rutledge and Bigham Funeral Home. Bishop Brian Caines will officiate and burial will follow in the Belmont Cemetery.
Mrs. Black will remain at Rutledge and Bigham Funeral Home where members of the family will receive friends from 12:30 until 1:00 p.m., but assemble at the residence at other times.
Visit the Book of Memories for Mrs. Black at www.rutledgeandbigham.com. Rutledge and Bigham Funeral Home is serving the Black family.