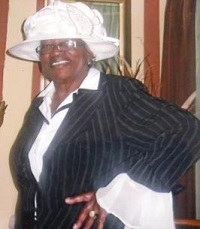 Mrs. Minnie Lee Miller Nelson, 84, of 1346 Fayetteville Street, Durham, N.C., passed away at the Gordon Hospice House in Statesville, N.C. on Thursday, February 27, 2020, following a brief illness. She was born in Iredell County on June 23, 1935, and was the daughter of the late Joay Mattox and Bessie Rucker Mayberry.
She attended Happy Plains School and at an early age became a member of St. Joseph Baptist Church. In her later years she became a member of First Greater Living Missionary Baptist Church, and later was a member of Pilgrim Baptist Church. She was employed by Duke University for thirteen years and was an avid cook and well known for her baking.
She was preceded in death by a son, Willie Lee Miller; two brothers, Leroy Mattox and John David Mayberry; and a sister, Elizabeth Bostic.
She leaves to cherish the memory of her life a son, James H. Miller of Jacksonville, N.C.; four daughtes, Barbara Allison, Kathy (James) Simpson, Brenda (Rodney) Bennett and Pamela (Ryan) Turner, all of Statesville; two daughters-in-law, Mary Jane Miller and Josephine Miller, both of Statesville; one sister, Sally M. Howard; thirteen grandchildren, William Miller, Sanford Gaines Jr., Patrick Miller, Milton Gaines, Janaun (LaShon) Gaines, Willie (Denetricus) Miller, Torrey Miller, Gary (Tracee) Miller, Kennen Miller, Duran (Tandra) Allison, Jamie (Coleman) Davidson, Keran Miller, Lelan Miller, Tiewon (Tylisa) Miller; fifty-three great grandchildren; nine great great grandchildren; many foster children; a special niece, Peggie Rucker; her godchildren, Sylvia Davis, Doretha (Tony) Quick, Dora Johnson, Brenda (Thomas) Simpson, Rosa (Todd) Steele, Toni Morrison, Beverly Barber and Shelia Wilson; a special friend, Olean Williams; and a host of nieces, nephews, cousins, church family, other relatives and dear friends.
Celebration of Life Services will be conducted Sunday, March 1, 2020, at 2 p.m. at The Mary B. Bigham Memorial Chapel of Rutledge and Bigham Funeral Home. Reverend Bobby Laws, pastor of Pilgrim Baptist Church #2 in Durham, N.C. will officiate and burial will follow in the St. Joseph Baptist Church Cemetery. Mrs. Nelson will remain at Rutledge and Bigham Funeral Home, where members of the family will receive friends from 1:30 until 2 p.m., but will assemble at the residence of a daughter, Pamela (Ryan) Turner, 699 Allen Creek Road, Statesville, N.C., at other times.
Visit the Book of Memories for Mrs. Nelson at www.rutledgeandbigham.com.
Rutledge and Bigham Funeral Home is serving the Nelson Family.