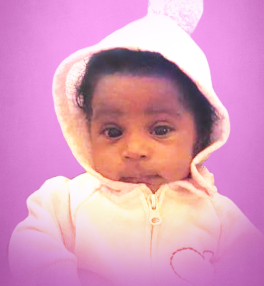 Dream Dior Roseboro, beloved daughter of Davion Roseboro and Tinnie ShaMichael Young, was born in Iredell County on February 18, 2020. She departed this life unexpectedly on Friday, June 19, 2020.
She was a beautiful little baby, whom we will always cherish.
She was preceded in death by her maternal great grandmother, Vivian Burch; paternal great grandmother, Pansy Poe; her paternal great grandmother, Annie Bell Davison; her paternal great grandmother, Mary Lou Overlee; her maternal great grandfather, Fred Young Sr., her paternal great grandfather, Herbert Summers;
She leaves to cherish the memory of her life, her father, Davion Roseboro and her mother, Tinnie ShaMichael Young; her paternal grandmother, Joyce Davidson of Statesville; her maternal grandmother, Beatrice Burch of Statesville; her paternal grandfather, David Powell of Stony Point; her maternal grandfather, Michael Young of Troutman; her maternal great grandmother, Rosa Bryant; her great grandfathers, Eddie Burch, Nathaniel Ramsey and Ronald Clinton Powell, all of Statesville; her aunts, Nalin Young and Olivia Young, both of Troutman, and Sharee Burch of Augusta, Ga.; her uncles, Isaiah Young of Troutman, and Vernon White, Justin Davidson and David Powell, Jr., all of Statesville; her godparent, Keno and LaTasha Clarke of Statesville and Denard and Alisha Hardy of Mooresville; and a host of great uncles, great aunts, cousins, other relatives, and many people who loved her.
They say when you sleep, you are at peace;
Well keep on DREAMing!
Celebration of Life Services will be conducted Thursday, June 25, 2020, at 1 p.m. at Christian Outreach of the Piedmont. Pastor Glen J. Usry is Pastor and Reverend Charles Young will officiate. Burial will follow in the Belmont Cemetery.
Visit the Book of Memories for Dream at www.rutledgeandbigham.com.
There will be no public visitation. Unfortunately, with the COVID-19 pandemic, Rutledge and Bigham Funeral Home, along with other funeral homes across the country, has been issued a mandate to limit the number of family and/or friends at funeral services. You can only enter the funeral with a funeral pass, which will be given to the family.
Rutledge and Bigham Funeral Home is serving the Roseboro Family.