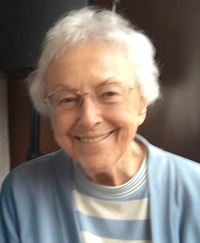 Helen Kelley Simpler passed away quietly in her sleep at her Lake Norman home on Saturday, June 20, 2020.
Born in 1925 in Philadelphia, Pa., Helen grew up in the Heckscherville "Irish Valley" in the anthracite coal region of northeastern Pennsylvania. She earned a bachelor's degree from the Pennsylvania State University in 1947 and moved to Harrisburg, where she began a long career with AT&T. On a business trip, she met the love of her life, Roland A. (Roy) Simpler, another AT&T employee. They married in 1963 and together moved to assignments in North Carolina, northern New Jersey, and New York City.
In 1974, Helen and Roy returned to North Carolina, built a home on Lake Norman, and found a close circle of friends and a life of boating, collective efforts on home projects, the power squadron, and supper clubs – and cherished memories that would bring Helen joy for the rest of her life.
After a long illness, Roy passed away in 1992, and Helen moved to Statesville. But when the opportunity arose in 2001, she moved back to the lake – into the same house that she and Roy had built on the lake 25 years earlier. There she was closer to old friends and found some new neighbors. As Helen grew older and vision problems arose, it was the kindness and generosity of her neighbors that helped her continue an active and fulfilling life. In her last year, she benefited from 24-hour assistance from patient and dedicated caregivers who made it possible for her to stay in her home. Her gratitude to those neighbors and caregivers was deep and abiding.
Helen was the daughter of Matthew Vincent Kelley and Kathryn (Maley) Kelley, descendants of Irish coal-mining immigrant families in the Heckscherville Valley. She is survived by stepson Ron Simpler (and wife Mary) of Clear Lake, Minn., nephew Jim Ryan (Jackie) of Gainesville, Va., nephew Tom Ryan (Joanne) of Newark, Del., two step-grandchildren, two step-great-grandchildren, two grand nieces, and a grand nephew.
A funeral mass will be celebrated at St. Phillip the Apostle Catholic Church in Statesville at 1 p.m. on Friday, June 26. Interment will be at Iredell Memorial Gardens immediately thereafter. Appropriate social distancing will be possible at both locations. A reception is planned for later in the summer in hopes of a return to near-normal times.
In lieu of flowers, memorial gifts may be made to the Metrolina Association for the Blind.
Funeral arrangements have been entrusted to the Bunch-Johnson Funeral Home in Statesville.