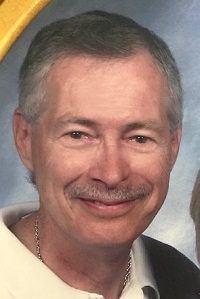 Edward Paul Johnson Sr., 78, of Statesville, N.C., passed away peacefully on Tuesday, April 7. His passing at home during Holy Week and amid a global pandemic — as if to slip away quietly and unnoticed — was typical of Ed, who will be remembered both for his faith and for his humility.
Ed was born the third of seven children in Camden, N.J., on June 30, 1941. He attended Camden Catholic High School in Cherry Hill, N.J., Belmont Abbey College in Belmont, N.C., and the Catholic University of America in Washington, D.C., where he earned his master's degree in Sociology. He served as a captain in the United States Air Force and was awarded the Bronze Star for outstanding service as a training advisor in Vietnam. As a young man in his 30s, he started his own company, Athena Marble, producing countertops for commercial and residential properties. He later joined his father, George P. Johnson, at Hunt Manufacturing Company.
In 1977, he met Patricia Ann Enders on a blind date. After nine months of courtship — with Ed driving more than 500 miles every other weekend from Statesville to her home in Estell Manor, N.J. — they married.
He showed the same persistence and devotion as a father to their six children, Edward Johnson Jr. (Lindsay), Michael Johnson (Christine), Christopher Johnson (Sarah) and Laurie Wilson (Colin), all of Statesville, Kathleen Mohr (William) of Hanford, Calif.; and Megan Douek (Daniel) of Seattle, Wash.
Until his retirement in 2004, Ed worked simultaneously as a quality control manager at Hunt Manufacturing and as a real estate broker and entrepreneur. In the evenings and on weekends, he took his kids along to properties to make repairs, so he could spend every moment he had with them.
He was also a loyal member of St. Philip the Apostle Catholic Church in Statesville, where he was a lector and Sunday School teacher.
He was preceded in death by his parents, George and Dorothy Johnson of Statesville, as well as his brothers, Dr. George M. Johnson and Dr. Dennis Johnson, both of York, Pa.
In addition to his wife and children, he is survived by four siblings, Walter Johnson (Gretchen) of Collingswood, N.J.; Patricia Albrezzi (Steve) of Los Angeles, Calif.; Mary B. Johnson of Statesville; and Fran Baker (Chip) of Statesville. He is also survived (and emphatically loved as "Pop Pop") by 15 grandchildren.
For the safety of friends and extended relatives during the coronavirus pandemic, the family has chosen to have a private Mass of Christian burial on Monday, April 13, at Saint Philip's Church. Ed will be laid to rest at Oakwood Cemetery in Statesville with Troutman Funeral home assisting the family. A celebration of his life will be scheduled at a later date. In lieu of flowers, donations in his memory can be made to St. Philip's Church or St. Jude's Children's Hospital at stjude.org.
Troutman Funeral Home is serving the family.