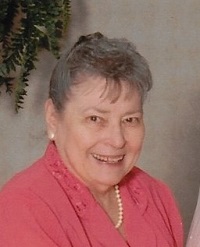 Rebecca Jane Price Driskill, 85, of Statesville, N.C., passed away, Tuesday, April 7, 2020, at Maple Leaf Health Care.
Mrs. Driskill was born November 17, 1934, in Mooresville, N.C., and was the daughter of the late John Franklin Price and Clara McLean Price. She was a graduate of Mooresville High School and attended Mitchell Community College. On March 17, 1957, she married the late Verlon Eldridge Driskill, who passed away, November 22, 2011. She was a member of the Eastern Star and enjoyed getting her hair and nails fixed.
She is survived by two children, Deborah D. Bunton (Randy) of Statesville and David Allen Driskill (Martha) of Statesville; two grandchildren, Stephanie Brickley (Benjamin) of Statesville and Steven A. Bunton (Kayela) of Olin; and four great grandchildren, Ethan McDaniel, Eli Brickley, Madilyn Bunton and Natiley Bunton.
In addition to her husband and parents, she was preceded in death by one brother, John Franklin Price Jr., and one sister, Sarah Price Herndon.
Graveside funeral services will be held at 11 a.m. on Saturday, April 11, 2020, at Glenwood Memorial Park in Mooresville.
In lieu of flowers, memorials may be made to JDRF Diabetes Foundation for Research at www.jdrf.org. Online condolences may be made to the family at www.troutmanfuneralhome.com.
Troutman Funeral Home is serving the family.