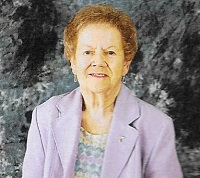 Elton Rash Wallace, 85, of Troutman, N.C., went to be with the Lord on Thursday, May 21, 2020. She was born September 29, 1934 in Harmony, N.C.
She graduated from Harmony High School in 1952 and enjoyed her monthly breakfast with her beloved classmates. She worked for Southern Bell for several years and retired from Thonet Industries. She was a member of New Perth Associate Reformed Presbyterian Church. She enjoyed her Friday luncheons at Rocky Mount United Methodist Church, where she made several special friends.
In addition to her parents, Lee and Laura Rash, she was preceded in death by her husband of 57 years, Tony Ony Wallace; her sisters, Genevive, Reba and Pat; and her brothers, Elmer and Leonard Rash. She is survived by numerous nephews and nieces.
A private celebration of her life will be held Friday, May 22, 2020, at Troutman Funeral Home. Those who wish to sign her Register Book may do so on Friday from 9 a.m. to 2 p.m. or online condolences may be made to the family at www.troutmanfuneralhome.com.
The family would like to give a special thanks to Lorrie Warren, Peggy Rumple, Peggy Barnnett and Andi Rash for their love and support.
In lieu of flowers, memorials may be made to Hospice and Palliative Care of Iredell County.
Troutman Funeral Home is serving the family.