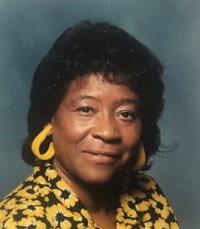 Mrs. Frances Gaither Wilkins, of 705 Brevard Street, Statesville, N.C., was born in Iredell County February 17, 1939, to the late Loren Patterson Gaither Houston and the late George "Sweet" Hickman.
She was a High School graduate and attended Livingstone College. She was a longtime member of St. Joseph Baptist Church, where she served faithfully and sang on the choir. She was married to her longtime husband, Willie Wilkins Jr., who preceded her in death.
In addition to her husband and parents, she was preceded in death by two loving daughters, Joyce Kimberly Wilkins and Pamela Loree Currence; a brother Johnny Gaither Sr.; mother in-law, Floree Haney Wilkins; a foster sister, Beulah Brown; an aunt, Eula Hickman Daniels; nephews Carl Brown and Tyree Dalton; and foster parents, Geneva and AJ Robinson, who raised her.
She leaves to cherish the memory of her life her sons, Kenneth Wilkins (LaChay), Victor Wilkins and Ronald Wilkins (Eva); her one and only son-in-law, Gregory Currence Sr.; two lifelong loving sisters, Josephine Parks and Flora Griffin; an aunt, Connie Patterson; special grandchildren, Gregory (Shirelle) Currence Jr., Charre Currence, Roneisha Wilkins, Sierra Wilkins, Chandler Rhyne, and Letisha Lewis, great grandchildren, Traven Lassiter, Cameron Smith, Jada McCain, Elijah Lacy, Julian Speller, Essence Whiteside and Deldrick Lewis; a host of nieces, nephews, cousins, the St. Joseph Baptist Church Family, other relatives, neighbors and friends.
Celebration of Life Services will be conducted Tuesday, April 7, 2020, at 1 p.m. at St. Joseph Baptist Church. Reverend Thomas Dye will officiate and Reverend Darrick Clemons will eulogize. Burial will follow in the Church Cemetery.
Mrs. Wilkins will remain at Rutledge and Bigham Funeral Home.
There is no public visitation; however, public viewing will begin Monday, April 6, 2020, until 7 p.m. and resume on Tuesday morning, April 7, 2020, until she is taken to the church to lie in state at 12 noon.
Unfortunately, with the COVID-19 crisis, Rutledge & Bigham Funeral Home, along with other funeral homes across the country, has been issued a mandate to limit the number of family and/or friends at funeral services. You can only enter the funeral with a funeral pass, which will be given to the family.
Visit the Book of Memories for Mrs. Wilkins at www.rutledgeandbigham.com. Rutledge and Bigham Funeral Home is serving the Wilkins Family.