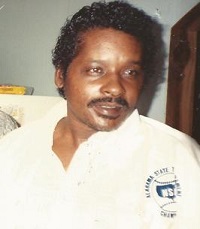 Mr. Richard Smyre, 72, a resident of Davie Nursing and Rehab in Mocksville, N.C., passed away on April 2, 2020. Also known as "Big Slow," he was the beloved son of the late Robert Lee Smyre Sr. and the late Hazel Redman Smyre, both of whom preceded him in death. He was born in Iredell County on February 18, 1948.
Mr. Smyre attended North Iredell High School. After leaving high school he worked for Holly Farms Poultry in Hiddenite, N.C., and upon leaving Holly Farms he then went to work for Union Grove Lumber Company in Union Grove, where he worked until his health prevented continuance of work. At an early age, Mr. Richard Smyre joined Siloam African Methodist Episcopal Zion Church in Statesville, N.C. He was married to Darlene Kimbrough Smyre and to that union two children were born.
Preceding him in death were three brothers, Robert Lee Smyre Jr., James Philliph Smyre and Hubert Reid Smyre; and a stepmother, Catherine Warren Smyre.
He leaves to cherish the memory of his life two daughters, Daphine Smyre of Winston Salem, N.C., and Jamie Smyre of Statesville; four sisters, Hazel Williams of Taylorsville, N.C., Doretha Nichols (Robie) of Harmony, N.C.; and Thelma Gaither of Harmony; a step-sister, Millecent Bellamy of Statesville; one brother, John William Smyre (Rosetta) of Harmony; one step-brother, Charles Warren of Union Grove; and one aunt, Mrs. Mildred Dobbins of Statesville. Also left to cherish the memory of Mr. Smyre are five grandchildren and a host of nieces, nephews and cousins.
Big Slow was a simple man. He loved his family. He loved watching Western movies and wrestling. In short, he loved the simple things of life.
Rest in God's Peace, "Big Slow."
Celebration of Life Services will be conducted Tuesday, April 7, 2020, at 11 a.m. at Rutledge and Bigham Funeral Home. Reverend Robin Williams, Pastor, will officiate and burial will follow in the Siloam AME Zion Church Cemetery in Olin.
There will be no public visitation; however, general public viewing will be held on Monday, April 6, 2020, until 7 p.m. and on Tuesday, April 7, 2020, from 9 a.m. until the funeral hour.
Unfortunately, with the COVID-19 crisis, Rutledge & Bigham Funeral Home, along with other funeral homes across the country, has been issued a mandate to limit the number of family and/or friends at funeral services. You can only enter the funeral with a funeral pass, which will be given to the family.
Rutledge & Bigham Funeral Home is serving the family.