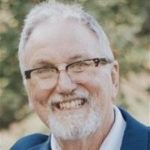 Freddie Martin Wall, 68, a loving husband, the best Daddy, and the coolest PaPaw, stepped into the wind on Sunday, December 29, 2019, at Forsyth Medical Center.
The son of Fred C. and Pauline Whitaker Wall, Freddie was born in Rowan County, N.C. He was a graduate of Davie High School, High Point College, and Appalachian State University. Freddie retired from his career as a Vocational Evaluator at the N.C. Department of Vocational Rehabilitation to pursue his passions of spoiling and teasing his grandchildren, bicycling with friends Joan Richard and Cliff File, and motorcycle riding with Billy Martin, Doug Bess and Danny Mason. He often could be found playing every musical instrument known to man, exploring uncharted river territories in kayaks, and dazzling the masses with his unparalleled wit and charm.
Freddie saw color through musical notes as interpreted by his friends and family. He experienced much of the world through a selfless interest in the thoughts and feelings of others — touching the lives quietly and with considered intent.
To have known him was an honor and a privilege; to have him leave us is just tragic.
A private celebration of Freddie's life will be held at a later date.
If you know his wife, Terry Mayberry Wall, his daughter, Carrie Wall (Jorge Palacios), his son, Jonathan Wall (Amy), his grandbabies, Erin Palacios & Lennon Palacios, and his sister, Peggy Dillon (Keith), give them some extra love. To his friends, thank you for loving him and know that he loved you too. If you knew Freddie, give each other another squdge, raise a glass, and do something nice for someone who needs it.
If you'd like to make a contribution to the Freddie Wall Legacy Fund in lieu of flowers, please do so at https://www.gofundme.com/f/freddiewall-legacyfund.
Fond memories and online condolences may be left at www.nicholsonfunerals.com. Nicholson Funeral Home is serving the Wall family.