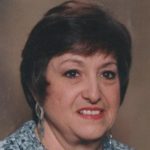 Mrs. Gail B. Lambert, 74, of Harmony, N.C., passed away suddenly on January 11, 2020. She was born October 24, 1945 in Iredell County to the late John Lewis Bullard and Cloyce Renegar Bullard.
In addition to her parents, she was preceded in death by a son, Chris McNeil.
She is survived by her husband of 21 years, Robert Lambert, and one daughter, Wendy Owen (Paul), both of Harmony; one brother, JO Bullard (Betty) of Mocksville, N.C.; one granddaughter, Brooke Hafford (Chris); and three beautiful great grandchildren, Samuel, Christopher, and Autumn, along with one niece and two nephews, all of Harmony.
A celebration of life service will be scheduled in the upcoming weeks.
Nicholson Funeral Home is serving the family of Gail Lambert.