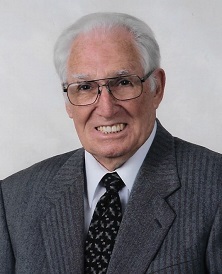 Percy Kenneth Travis, age 85, our beloved husband, father, and friend passed into his eternal life with Christ Jesus on Sunday, January 12, 2020. Percy was born on February 10, 1934, in Newton, N.C., to Gordon Long and Sadie Harbin Travis.
He graduated from Statesville High School in 1954. Percy married Phyllis Stradley on January 17, 1959. Percy and Phyllis have two children, Patricia "Trish" Travis Loudermilt (Keith) and Philip (Tracy) Travis.
Percy spent most of his working life as the shipping supervisor for Melville Textile Printworks. He was an active member of Western Avenue Baptist Church for 60 years, serving as a deacon for many years and Men's Sunday School teacher for 40 years. He participated in multiple church Young-at-Heart activities and trips. For many years, Percy helped with the church Wednesday night supper preparations; often, we would see his adorable hand-carved animals, made from fruits and veggies, gracing the table. Percy was blessed with many life-long friends from the Western Avenue family.
Percy's hobbies included wood-turning, gardening, and landscape painting. He kept the family and neighbors in beans, corn, tomatoes, and cucumbers for many years. An avid reader, Percy would record the books he read; some multiple times. His goal was usually 100 per year. Over the years, he read thousands of books and became a self-educated man in many topics. He enjoyed creating oil paintings of his favorite nature scenes and made good use of his "man-cave/shop" for creating his wood art.
As a young father, he taught his children to love nature and geography. We collected rocks, learned about their properties, memorizied state capitals, and studied maps without it being a school assignment. He took his family camping, hiking, and trout fishing in the mountains every year. Percy attended all the high school sports games in which his children participated and went to most of his grandchildren's sports activities.
Percy and Phyllis hosted a Swedish exchange student, Peter Masuhr, in 1981. One of their many travel adventures included a visit to Sweden. Percy loved to entertain all who would listen to stories of his travels.
Percy was preceded in death by his parents and a sister and brother-in-law, Lodeane and Leon Munday. He is survived by his wife and children; grandchildren, Cameron Travis, Taylor Travis, Charlotte Loudermilt, and Kayla Jenkins; great-grandchildren, Zaeden, Callie, and Cloie Jenkins; nephew, Gary Munday, and nieces Beverly Munday Farber, and Tina Munday Thorpe and their families.
Memorial services for Percy will be held at Western Avenue Baptist Church in Statesville, N.C., at 2 p.m. on Thursday, January 16, 2020. The family will receive friends following the service in the church fellowship hall. Burial services will be at 11 a.m. Thursday at Oakwood Cemetery in Statesville.
Special thanks to his caregiver Teresa Fox and Hospice & Palliative Care of Iredell County for their exceptional care of Percy as his health was declining.
Memorials may be made to Western Avenue Baptist Church Ignite Building Fund or Equipping with Truth Ministries (https://www.equippingwithtruth.org/).
Online condolences may be made to the family at www.troutmanfuneralhome.com
Troutman Funeral Home is serving the family of Mr. Percy Travis.