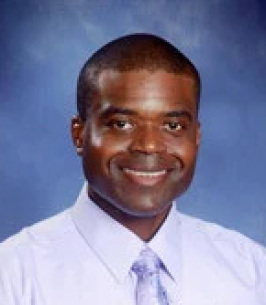 Goldwyn "Toot" Parker II was a loving son, brother, uncle, friend, nephew, cousin, and foot soldier for Christ. God called him from labor to rest on Tuesday, April 7, 2020. He wasn't perfect, but his life was S.A.C.R.E.D. Service, Adventure, Challenge, Relationships, Education, and Discipline characterized it. There was nothing like the special times he spent laughing and cuttin' up with his family, friends, and cousins.
Goldwyn had a passion for the things of God and would ask thought-provoking questions in his Bible classes and various Christian fellowships. He was a strong billiards player and always looked forward to challenging anyone to an intense game of Bid Whist or Spades. Activities such as golf, bowling, and chess brought him great joy since boyhood. He would sit down at the checker board in the barbershop and hold his own against seasoned players. He was known for smelling up the neighborhood with his tasty barbeque chicken and ribs. In his spare time, he created a business plan for a rib shack. He enjoyed camping, exploring, and fishing from river banks, piers, lakes, or the ocean. He was an avid swimmer, exercised daily, and promoted healthy living. In spite of having adult-onset epilepsy, he maintained a vibrant and rewarding life. From an early age, he developed confidence and an indomitable spirit.
His unique and purposeful journey began on Saturday, September 1, 1979, when Goldwyn and Cynthia Bailey Parker welcomed a big bundle of joy into the world at Presbyterian Hospital in Charlotte, N.C. Their bundle of joy was a baby boy whom they named Goldwyn Glenn Parker II. His first cousin, Ilya, started calling him "Toot" at a very early age and that name followed him for life. At his birth, weighing in at 9 pounds 10 ounces, his proud parents quickly realized that he was a unique gem. He was christened at South Tryon Presbyterian Church at age six months. God knew that he would grow up to be a jewel, whose love and kindness would shine brightly wherever he would go.
His first and most formative education started at the "Wilmore House of Love and Learning," operated by his grandparents, Curtis and Anne Parker. As a child, he and all of the Parker Grands would spends hours and hours under the big shade tree in the backyard with granddaddy and grandma. He also spent time in the foothills of Iredell County with his Grandma Bessie and PawPaw Francis. He and his cousins from the Burgess and Bessie Bunch enjoyed time spent on their grandparents' farm in youthful wonder. From this foundation, he developed into an industrious and ingenious young man. As a youth, Toot had hobbies such as skinning copper wire and recycling cans. He would sell them, count the loot, and meticulously place the coins into neat stacks. Sometimes he would take things apart and reconstruct them, go fishing, and participate in other character-building activities. At other times you would find him sitting at the table building a solid rock foundation by watching his grandparents read, discuss the Bible, and tell stories. He loved his grandparents and they loved him. They were very influential in molding and shaping him to become the man of God that we so dearly love.
Goldwyn also had a jump start on learning, by attending nursery school at Love & Care Nursery and South Tryon Presbyterian Church Day Care. He loved going to church and would always find a church to not only attend, but to serve. As a child he grew up attending South Tryon Presbyterian Church, Bread of Life Presbyterian Church, and Clanton Presbyterian Church.
Goldwyn was educated in the Charlotte-Mecklenburg Public School System. He attended Irwin Avenue Open Elementary, Piedmont Open Middle, and West Charlotte High School.
Throughout his school years, Goldwyn engaged in several extra-curricular activities. While in elementary school, he developed a life-long interest in playing chess. He became a ranked member of the chess teams at Irwin Avenue Open School, Piedmont Open Middle, and West Charlotte High School. He also was a member of the band and golf team at Piedmont Open Middle and West Charlotte High School. While at West Charlotte High School, he was on the wrestling team, debate team, and Senior Class Council. After years of discipline and dedication, he earned a Karate Black Belt from Mid-Town Kempo Karate in Charlotte. He was a member of numerous clubs and honor societies. As a senior, he was awarded the "Best Smile and Mo" superlative, and he graduated with honors.
After graduating from high school, he was accepted at Florida Agricultural and Mechanical University (FAMU) in Tallahassee, Fla. There he pursued and obtained a Bachelor of Science Degree in Chemical Engineering. While a student at FAMU, he was a NASA Scholar, a tutor, and was a member of the Marching 100 Band and National Society of Black Engineers (NSBE). His college summers were full of travel and internships with companies such as NASA and GE. Prior to accepting a full-time job, he decided to continue his education by joining the North Carolina State University Wolf Pack and earned his Master of Business Administration Degree (MBA) in 2003.
He began his full-time professional career with GE at the Evansville, Ind., location. He worked as an Operations Management Leadership Program Engineer and then took a position as a Process Engineer with Momentive Performance Materials. He also worked as a Production/Process Engineer at Kraton Performance Polymers, a specialty chemical company in Belpre, Ohio. In June of 2012, he joined Honeywell as a Process Engineer at the Hopewell Performance Material and Technologies Hopewell, Va., facility. At the time of his death, he was employed as a Process Safety Advisor at the Albemarle Corporation in Magnolia, Ark. Goldwyn was a certified Six Sigma Greenbelt Process Improvement Engineer, and was building a reputation as an expert in his field. He would carry on a conversation with anyone and was known for his vibrant smile that he shared with friends and strangers alike. A gate attendant at the Albemarle Facility, where he last worked, noted that Goldwyn always walked across the parking lot with a smile. We will never know what he was thinking, but it brings great joy to know that he even smiled to himself. When it was time to end a conversation or close a message, he would say, "God is good, peace" or simply "Peace." When asked about the meaning behind closing everything out in that manner, he said that Peace is a way of life for him, and it is actually more like Love, Joy, and Peace, and that he tried to make sure that at least Peace was connected to him. Through the many smiles, words of encouragement, mentorship, and lasting memories, he accomplished this goal.
He was preceded in death by his paternal grandparents, Curtis and Anne Parker of Charlotte, maternal grandparents, Burgess A. Bailey Sr. and Goldsbeth Sharpe Bailey (Francis) Cowan of Statesville, as well as aunts Teresa Bailey Turner and Constance Parker.
Goldwyn leaves to cherish the precious memories of his life his mother, Cynthia Decarlo Bailey of Statesville; his father and step-mother, Goldwyn Glenn and Andrea Parker of Charlotte; sister, Jessica Sharese Parker Macauley (Bismarck), Accokeek, Md.; and step-sister, Taquilla Patton, Belmont, N.C. He was an amazing uncle to four nieces, Crest, Fidelis, Glacier, and Harmony Macauley; and four nephews, Bismarck, Day, Euclid, and Ion Macauley, who all reside in Accokeek, Md. Goldwyn was a dedicated godfather to Thomas Bailey of Columbus, Ohio, and Bryson and Braxton Highe of Charlotte. He left behind two cherished great aunts, E. B. Maxwell of Atlanta, Ga., and Edna Hall of Statesville. His aunts and uncles were dear to him from the time that he could remember. He appreciated their time and effort in nurturing and supporting him along his journey. These beloved one include, Phyllis A. Bailey and Mary Bailey Dalton Turner of Statesville, Emily Bailey Greene (Phillip) of Columbus, Ohio, Linda Bailey Jacobs (Eugene) of Winston-Salem, N.C., Margie Minger Parker of Charlotte, Janet McKoy Bailey of Wake Forest, N.C., Preston Bailey (Julia) of Columbus, Ohio, Burgess A. Bailey Jr. of Statesville, Curtis Parker Jr. of Charlotte, and Jerry Turner and Robert Dalton of Harmony, N.C. He is also survived by cousins, Rickey Parker (Beverly), Ilya Parker, and Tracie Parker of Charlotte, the Burgess & Bessie Bunch, Sean Turner (Chassity), Derrick Dalton (Angel) of Statesville, Bailey Rayford (Jimmy), Westfield, Ind., RayMond Turner (Shenitra), Statesville, Chike Bailey of Winston-Salem, David Dalton (Shala), Kernersville, N.C., Porchia Matthews (Travis) and Anna Woadzro (Eric) of Raleigh, N.C., Christopher Jacobs of Winston-Salem, Paul Bailey of Raleigh, and Cybil Bailey and Lovie Greene of Columbus, Ohio. He had three best friends, whom he called brothers, two of which were friends since kindergarten, and one was his college roommate – Nicholas Highe of Charlotte, Lester Wallace III of Washington, D.C., and Cody Gillians of San Francisco, Calif. Others left to share his precious memories include The Smith Family of Atlanta and the Sharpe Family of Statesville. His godfather, Wylie Floyd, and godmother Deanna Highe, both of Charlotte, Rev. Dr. Harris and the members of Bethlehem Missionary Baptist Church in Magnolia, Ariz., Rev. Dr. Dale Sanders Jr., The Brotherhood Ministry, and the members of Bethany Baptist Church in McNeil, Aiz., Rev. Dr. Colen and the members of the Mount Zion Missionary Baptist Church in Magnolia, Ark., Rev. Dr. Diggs, The Boyz 2 Men Ministry, and the members of Tabernacle Baptist Church, Petersburg, Va., Rev. Dr. Troy and the members of New Salem Missionary Baptist Church in Columbus, Ohio, Rev. Roscoe and the members of Nazarene Missionary Baptist Church in Evansville, Ind. Goldwyn had a supportive community of professionals and friends, which enriched his life, National Society of Black Engineers, Columbus and Richmond Chapters, Albemarle Corporation, Magnolia, Ark., Central Hub Pool Hall, Magnolia, Ark., Magnolia-Columbia County Chamber of Commerce Leadership Magnolia, Rev. Dr. Cornell Lewis the young men and mentors of the Expanding Visions Foundation in Columbus, Ohio, and a host of other friends and relatives.
To God be the glory for the great things he has done, Amen.
Viewing of the Celebration Video on Friday, April 24, 2020, from 4 to 8 p.m. and on Saturday, April 25, 2020, from 9 a.m. until the funeral hour.
Celebration of Life Services will be conducted Saturday, April 25, 2020 at 11 a.m. at Rutledge and Bigham Funeral Home, Statesville, N.C. Reverend J. C. White, Pastor of Mt. Pleasant AME Zion Church, Statesville, will officiate and Reverend Michael Gillespie, Pastor of Denny Grove AME Zion Church, will eulogize.
Mr. Parker will be buried in the York Memorial Park Cemetery in Charlotte immediately following the service.
There will be no public visitation. Unfortunately, due to COVID-19, Rutledge and Bigham Funeral Home, along with other funeral homes across the country, have been issued a mandate to limit the number of family and/or friends at funeral services. You can only enter the funeral with a funeral pass, which will be given to the family.
Rutledge and Bigham Mortuary is serving the family of Mr. Goldwyn Parker.