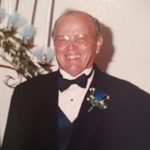 Henry "Hank" Silas Swaenepoel, 79, of Mooresville, N.C., passed away on Wednesday, June 3, 2020, at Davis Regional Medical Center in Statesville. Born October 8, 1940, in Wheaten, Ill., he was a son of the late August Swaenepoel and Luella Hendrickson Petermann.
Hank was a retired electrician and enjoyed doing anything electrical. He was truly a "jack of all trades." He was a U.S. Navy veteran and served on a submarine. Hank enjoyed bowling, archery, and fishing. He also loved to be outside gardening and working on his farm.
Hank was preceded in death by his wife, Marie Swaenepoel, and a sister, Arlene Lawnicki. He is survived by his children, Brenda Swaenepoel and Gary Swaenepoel (Elizabeth); brother, Oliver Swaenepoel (Kathleen); and grandsons, Lee and Evan Swaenepoel.
The family will receive friends on Sunday, June 14, 2020, from 2 to 3:30 p.m. at Cavin-Cook Funeral Home, Mooresville. A graveside service will be held at a later date at Salisbury National Cemetery when restrictions have been lifted.
In lieu of flowers, memorials may be made to Gordon Hospice House, 2341 Simonton Road, Statesville, NC 28625.
Cavin-Cook Funeral Home, Mooresville, is serving the family of Mr. Swaenepoel. Condolences may be made to the family at www.cavin-cook.com.