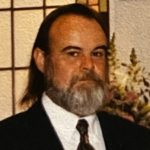 Mitchell Lynn Goodman, 66, of Troutman, N.C., passed away Monday, June 1, 2020, at his home following a lengthy illness fought with courage and dignity throughout.
Mitchell was born September 29, 1953, in Iredell County and was the son of Audrey Teresa Craig Goodman and the late Ray Lynn Goodman of Troutman. He was a graduate of Thomas Jefferson High School in Fairfax County, Va., and returned to Iredell County in 1977 to farm the family land.
Mitchell will be best remembered as a gifted storyteller, one who enjoyed sharing his love of music and history with great humor and remarkable detail to all who were fortunate enough to have known and loved him. He took great joy in sharing memories of his life experiences and places he had worked, earning the nickname "Scrappy" during his years with Machining Solutions Inc., where he was an integral and beloved part of the company for over 25 years. He was happiest on his farm, playing music with friends and family and often remarked how lucky he was to have fulfilled his childhood dream of becoming a farmer.
In addition to his mother, Mitchell is survived by one brother, Curtis Ray Goodman (Alicia) of Troutman; two daughters, Chasity Duty (Steven) of Granite Falls and Shalana Landreth (Jason) of Stony Point; devoted caregiver Lora Howse of Stony Point; five grandchildren, Payton, Gavin, Kylie, Lilly, and Addie; two nephews, Nicholas and Tyler Goodman; and a host of devoted friends he considered family.
A private memorial service will be held at Wesley Chapel United Methodist Church in Troutman at a date to be determined.
In honor of Mitchell, memorials may be made to St. Jude's Children Research or to Hospice and Palliative Care of Iredell County. Online condolences may be made to the family at www.troutmanfuneralhome.com.
Troutman Funeral Home is serving the family.