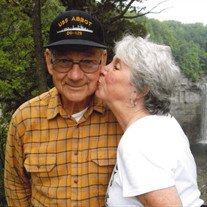 Ira Washington Stultz, 88, of Mount Ulla, N.C., passed away on Wednesday, June 10, 2020, at his residence.
He was born on February 22, 1932, in Snow Creek, Va., to the late George and Ethel Thompson Stultz. After graduating high school, Ira went to a two-year trade school and learned the trade of machinist. He then joined the U.S. Navy and served for four years on the Destroyer USS Abbott (1952-1956). After 34 years of service with Duke Power, he retired and took up his love of woodworking. He also loved to run, especially with his sons, and he was the co-founder of the Mooresville Running Club.
Ira was a member of Liberty Baptist Church in Mooresville, where he used his woodworking skills to make podiums for every Sunday School class and foot stools for anyone whose feet couldn't reach the floor. He loved helping out in Vacation Bible School, teaching children different skills using wood. He also helped out in the sound booth and sometimes sang in the choir. His favorite social times were with his Sunday School Class and senior trips. Ira loved his God and his church. He was a strong, quiet man of few words; however, when he did speak everyone enjoyed listening to what he had to say. He was a listener, provider for his family, generous, and a man of his word. Ira enjoyed history and watching Westerns.
In addition to his parents, he was preceded in death by his first wife, Louise Griffith Stultz; son, Mark A. Stultz; step son-in-law, Larry Campbell; sisters, Mamie Major, Ruby Isley and Ruth Trent; and brothers, Jim Stultz, Willard Stultz, Willis Stultz, Lewis Stultz, and G.A. Stultz.
He is survived by his wife, Mary Floyd Stultz; son, David Kyle Stultz; stepchildren, Tammy Russ (Danny), Eddie Brown (Spankey Tovar-Brown), Scottie Brown (Kim), and Mary Ellen Campbell; 18 grandchildren; and 24 great grandchildren.
The family will receive friends on Sunday, June 14, from 2 to 3 p.m. followed by a service at 3 p.m. at Liberty Baptist Church. Rev. Eddie Graham will be officiating. A Graveside service will be held at 11 a.m. on Monday, June 15, at Ridge View Cemetery in Eden, N.C.
In lieu of flowers, memorials may be made to Liberty Baptist Church Missions Fund, 171 Johnson Dairy Road, Mooresville, NC 28115.
Cavin-Cook Funeral Home & Crematory, Mooresville, is serving the Stultz family. Condolences may be made to the family at www.cavin-cook.com.