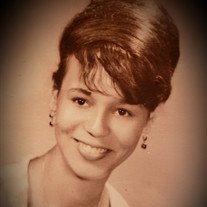 Iris Elsa Burgos, 74, of Troutman, N.C., passed away on Friday, October 30, 2020. Born May 14, 1946, in Puerto Rico, she was a daughter of the late Bernardo and Francisca Santos Ortiz.
Mrs. Burgos was a retired assembly worker. She was a member of Lake City Church, Mooresville. She enjoyed sewing, watching Law and Order and CSI, doing puzzles, shopping and being on the go.
Mrs. Burgos loved her family very much and her granddogs. She was preceded in death by a son, Samuel Santos, and a brother, Clemente Ortiz.
Mrs. Burgos is survived by her children, Christine Sanchez (Samuel), Jeanie Whitener (Jeffrey) and Kenneth Burgos (Jhermynne); grandchildren, Vanessa Leiner, Kenneth Burgos Jr., Matthew Sanchez, Eric Burgos, Joshua Sanchez, Nathan Burgos, Daniel Sanchez, Jeffrey Whitener, Bryan Burgos, Kierran Burgos, Quentin Whitener and Kyra Burgos; and siblings, George Ortiz, Bernardo Ortiz, Angela Gonzalez, Tina Berrios, Rosa Procopio, Aida Rodriguez, Carmen Walden, Alicia Ortiz and Marta Bisciglia, Eneida Ortiz, Basilisa Ortiz, William Ortiz and Maria Socia.
The family will receive friends from 6 to 8 p.m. on Friday, November 6, 2020, at Cavin-Cook Funeral Home, Mooresville. Funeral services will be held at 11 a.m. on Saturday, November 7, 2020, at the Cavin-Cook Funeral Home Chapel, Mooresville.
For those who are unable to attend the service, you may go to the following link for the live stream https://www.youtube.com/channel/UC864hAs96dTRLVVL1la0Qlw/videos?view=2&flow=list
The family request that all family and friends in attendance to any of the services be required to wear mask for safety.
Cavin-Cook Funeral Home, Mooresville, is serving the family of Mrs. Burgos. Condolences may be made to the family at www.cavin-cook.com.