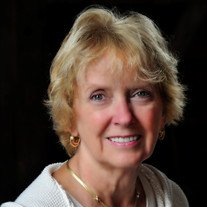 Iris Margreta Barley Binder, 79, of Mooresville, NC., passed away on Saturday, April 11, 2020, at Carolinas Medical Center in Charlotte.
Born on June 17, 1940, in Englewood, N.J., she was a daughter of the late Faynier and Celia Barley. A graduate of Teaneck High School, she earned a B.A. and M.A. in science from Montclair State University and taught Chemistry and Physics at Pascack Valley High School and Ramsey High School. She was an active and proud member of the Queen City Corvette Club, Twister's Shag Club, the Newcomers Club and the Golden Girls Club. She enjoyed taking care of her grandchildren, reading, travel, taking long rides in the country, dancing and preparing special meals for her family.
In addition to her parents, Iris was predeceased by her siblings, Astrid, Faynier Jr., and Darius. She was loving wife of Charles Binder, mother of Karin Humanik and Chuck Binder, grandmother to Ellie and Paul Binder, and sister to Jeffrey Barley of Fort Montgomery, N.Y.
Cavin-Cook Funeral Home, Mooresville, is serving the Binder family. Condolences may be made to the family at www.cavin-cook.com.