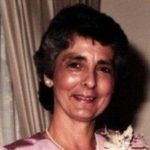 Jacqueline Fleming, 90, of Raleigh, N.C., passed away on February 27, 2020. She is survived by her children, Elizabeth "Libby" Scott Fleming, David Scott (Peggy) Fleming Jr., Suzanne (Matt) Schultes and Frank Douglas (Lesley) Fleming; six grandchildren; and two great-grandchildren. Jacqueline was preceded in death by her husband, David Scott Fleming Sr.
The family will receive friends Sunday, March 1, from 4 to 5 p.m at Montlawn Funeral Home, 2911 S. Wilmington St., Raleigh, NC 27603. The funeral service will follow at 5:30 p.m. Burial will be Monday, March 2, at 1 p.m. in Oakwood Cemetery, Statesville, N.C.
Services provided jointly by Montlawn Funeral Home in Raleigh and Nicholson Funeral Home in Statesville.