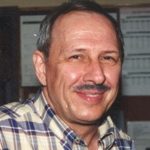 Larry Lee Bolinger, 84, of Statesville, N.C., passed away at his home surrounded by family, following a period of declining health.
He was born July 19, 1935 in Pulaski County, Ind., to the late Dale Bolinger and Audra Eikenberry Bolinger. He was also preceded in death by a brother, Richard Bolinger; and two grandsons, Nathaniel Dilyard and Jonathan Bolinger.
God called Larry to ministry while serving in the U.S. Air Force in England. After his discharge he completed his B.S. at Ashland College and MDIV at Ashland Theological Seminary. He served as a student pastor for five years while in seminary. Larry and Rose were called to serve in the mission field and had training at the Linguistic Institute in North Dakota, and at Michigan State in Lansing. They served as missionaries for six years in Nigeria, working with Wyckliffe Bible Translators to translate the Bible into the local language, and set up literacy programs.
Upon their return, Larry became the pastor of Smithville Brethren Church, serving for nine years. In 1981 they moved to Kissimmee, Fla. Over the next 35-plus years he worked in various capacities, retiring in 2011 from Osceola County Schools as an aide for exceptional education students.
Regardless of what he was doing or where he was, Larry shared his love for the Lord. He had a heart for serving people, from his family to the children he worked with.
Those left to cherish his memory are his wife, Rose Ann Bilderback Bolinger; three sons, David (Brenda) Bolinger of Abingdon, Va., Jon (Stephanie) Bolinger of Ortonville, Mich., Brian (Lori) Bolinger of Mt. Gilead, Ohio; a daughter; Susan (Rick) Dilyard of Smithville, Ohio, 16 grandchildren and 6 great-grandchildren.
A Celebration of Life Service will be held Friday, March 6, 2020, at 1 p.m. at Smithville Brethren Church, 193 E. Main Street, Smithville, OH, 44677 with Pastor Art Carr officiating. The family will visit with family and friends from 12 to 1 p.m. prior to the service at the church.
In lieu of flowers, gifts may be sent to Brethren Disaster Ministries, P.O. Box 188, New Windsor, MD 21776-0188 or to People to People Ministries, 454 E. Bowman Street, Wooster, OH 44691.
Nicholson Funeral Home is serving the family.