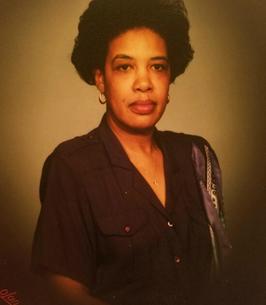 Mrs. Jacquelyn Yvonne Scott Thomas, 70, of 1809 N. Barkley Road, Statesville, N.C., passed away at Novant Health Presbyterian Hospital in Charlotte, N.C., on Saturday, June 13, 2020, following an extended illness. She was born in Iredell County on August 25, 1949, and was the daughter of the late Dewitt Scott and Maxlene Carter Hooser. She was raised by the late Maggie L. Hooser. In addition to her parents, she was preceded in death by her husband, Samuel Paul "Booster" Thomas Jr.; and two sons, Tracey Lamont Thomas and Devon Paul Thomas.
She was a graduate of John Hague High School in Cleveland, Ohio, and Mitchell Community College in Statesville. She was an honorary member of Unity High School Class.
She leaves to celebrate and cherish the memory of her life two sons, Toron (Yvonne) Thomas Sr. of Clarksville, Tenn., and Stacey Thomas of Statesville; one daughter, Sharondria "Ronnie" Thomas of Statesville; her grandchildren, Quashawn Thomas, Alonga Thomas, Danielle Thomas, James Thomas, Quiana Thomas and Railyn Thomas; her grandchildren, Harmony Taylor, Khyree Epps, Toran McGull Goolsky; and Kaelan Isaiah Rhodes; brothers-in-law and sisters-in-law, William Ike (Joanne) Thomas of Charlotte, Steven "Keith" (Barbara) Thomas of Bradenton, Fla., Carrie "Keita" (Larry) Gabriel of Statesville, Jane Thomas of Wilmington, Charles (Wendy) Thomas of Sherrills Ford, Manasseh "Nasseh" Thomas and Andrew "Jim" Thomas, both of Troutman; three aunts-in-law, Emma Jean Morrison Huggins and Myrle Thomas, both of Statesville, and Mildred Thomas of Winston-Salem; special cousins, William "Bug" (Rose) Scott and Alonzo Scott; a host of nieces, nephews, cousins, other relatives and friends.
Celebration of Life Services will be conducted Saturday, June 20, 2020, at 12 noon. Rutledge and Bigham Funeral Home in Statesville, N.C. with Reverend Burrel Brooks officiating. Burial will follow in the Iredell Memorial Park.
General Public viewing will begin at 12 noon on Friday, June 19, 2020, at the funeral home and will resume on Saturday, June 20, from 9 a.m. until the funeral hour.
There will be no public visitation. Unfortunately, with the COVID-19 crisis, Rutledge and Bigham Funeral Home, along with other funeral homes across the country, has been issued a mandate to limit the number of family and/or friends at funeral services. You can only enter the funeral with a funeral pass, which will be given to the family.
Rutledge and Bigham Funeral Home is serving the family.