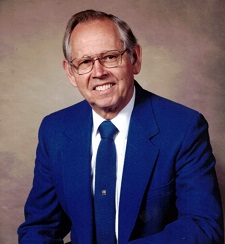 Mr. James Clinton "Clint" Lapish peacefully passed away on July 1, 2020, in Statesville, N.C. He was one of eight children born to the late Kurfees Lee Lapish and Mary Sain Lapish on June 8, 1926. After his lengthy struggle with Alzheimer's Disease in conjunction with a loss of hearing and sight, the angels took him Home.
Mr. Lapish, a Christian in action, was a dedicated member of Diamond Hill Baptist Church for over 64 years, serving faithfully in all leadership capacities when requested. He was an Army veteran completing training at Ft. Bragg, N.C., then transferring to Ft. Benning, Ga., where his wings were achieved in "THE" Eighty-Second Division-Airborne.
Mr. Lapish was best remembered for his active service in the community accompanied with his infectious smile and personality. He retired from Bernhardt Industries after serving as Plant Manager. Highly respected, he worked tirelessly dedicating himself to quality production and fairness to all.
Surviving are his beloved wife of 65 years, Mrs. Carol Ruth Winecoff Lapish; daughter, Tammy Carol Lapish-Houston ("Huck") and grandson Joseph Alexander Houston (J. Alex / Alex), both of whom he loved and adored. Also surviving are his youngest sister, Gerald Sue Lapish Miller (Dean, Tracy); brother and sister-in-law, Mr. Amos Stroud and Betty Winecoff Stroud. Nieces and nephews include Ms. Donna Stroud Harris, mother of David Harris and Scott Harris (Audra), Larry Wayne Stroud, Fred Nathan Cook, and Carol Lynn Cook Earnhart (Robbie). Other survivors include numerous nieces, great-nieces, great-great nieces, nephews, great-nephews, and great-great nephews. Mr. Lapish dearly loved his family members and took humble pride in all their accomplished endeavors.
Bunch-Johnson Funeral Home will be directing the funeral where services will be conducted in the Chapel. Officiating will be the Rev. Larry Holleman, Pastor Emeritus, the Rev. Carl Williams and Jeff Luxon, Pastor for Family Ministries. Musical soloist and remembrances by Mr. Scott Harris. Interment will follow at Iredell Memorial Gardens.
Unfortunately, due to the COVID-19 surge, the funeral services will be private and the family is foregoing visitation for precautionary safety. However, Mr. Lapish will lie in repose for public viewing and signing of the register from 9 a.m. until 12 noon on Tuesday, July 7, 2020.
The life of James Clinton Lapish inspired and touched many people. His memory will be cherished and presence on Earth will be deeply missed. We all rejoice as now he can see, hear and think in a perfectly transformed body, sheltered safely in the arms of God through Christ Jesus.
In lieu of flowers, memorials may be made to: Diamond Hill Baptist Church; 2320 East Broad Street, Statesville, NC 28625; The "Outreach Ministries" or "TV Ministries" of First Presbyterian Church; 200 West Trade Street, Charlotte, NC 28202; Samaritan's Purse, P.O. Box 3000, Boone, NC 28607-3000 or to the Veteran's Administration c/o Salisbury VAMC, 1601 Brenner Avenue, Salisbury, NC 28144
Condolences may be sent to the family online at http://www.bunchjohnsonfuneralhome.com or to the Lapish-Houston Family, 121 Seven Oaks Lane, Statesville, NC 28677.
Bunch-Johnson Funeral Home is honored to be entrusted with the care of Mr. Lapish and his family.