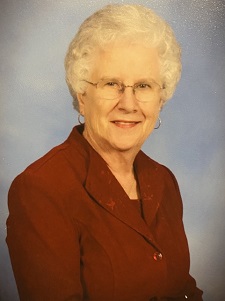 Shirley Eades Sherrill, 85, of Troutman, N.C., passed away on Thursday, July 2, 2020, at her home surrounded by her daughters.
Mrs. Sherrill was born September 16,1934, in Iredell County and was the daughter of the late Clyde "Johnny" Eades and Beatrice Bumgarner Eades. She was a graduate of Troutman High School and was married to the late Ernest Lester Sherrill, who passed away January 27, 2008. She previously worked for J.C. Penney Warehouse and Davis Hospital from 1967-1996. She was a member of Bethel Baptist Church and served as the church secretary for over 40 years, along with the nursery and children's department.
Shirley loved all of her family and her Lord and Savior dearly. She was a warm and kind-hearted woman who never met a stranger. She impacted the lives of everyone who had the privilege of knowing her. Her faith and dedication to God was her number one priority in life, next to making sure her family and everyone around her knew how much they were loved. Even though she is not with us here on earth anymore, she will forever be in our hearts, and we find peace in knowing that heaven is now a little more beautiful with her in it and that she is with her beloved husband again 12 years after his passing. She always did everything with the feelings of everyone else in mind and would want us to rejoice in her homecoming.
Shirley is survived by two daughters, Teressa Hopkins (Benny) of Kill Devil Hills, N.C, and Alaina Sherrill of Troutman; four grandchildren, Jordan Hopkins, Aaron Hopkins (Rebecca), Kelsey Wells and Karley Wells; three great grandchildren: Madison Hopkins, Jayden Hopkins and Raelynn Wells; sister and brother, Peggy Mayes and Ted Eades (Patty); nieces and nephews, Patty Whitener, Jonathon Eades (Cindy) and Danette Madison (John); along with many great nieces and nephews. She was preceded in death by a brother, Ned Eades, and niece, Pamela Whitener.
She will lie in state at Troutman Funeral Home on Monday, July 6, 2020, from 9 a.m. to 5 p.m.
Graveside funeral services will be held at 11 a.m. on Tuesday, July 7, 2020, at Iredell Memorial Gardens Cemetery. Masks will be available for anyone who needs one.
In lieu of flowers, memorials may be made to ALS Foundation, Life Span, Bethel Baptist Church or Hospice and Palliative Care of Iredell County. Online condolences maybe made to the family at www.troutmanfuneralhome.com.
Troutman Funeral Home is serving the family.