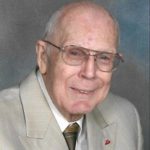 James Floyd Snyder, 93, of Statesville, N.C., died Thursday, March 5, 2020, at Rosewood Nursing Home.
He was born in Adrian, Mich., to the late John Snyder and Bernice Klump Snyder. James was also preceded in death by his first wife and mother of his children, Corlese Bohner Snyder and Swanie Hayes Snyder.
He was a graduate of Adrian High School and served in the U.S. Army and the Air Force. James was a retired draftsman with Kewanee Scientific, a member of New Sterling ARP Church, and a member of the Airplane Club. He loved model airplanes and especially building radio-controlled airplanes.
Survivors include three sons, Steve Snyder (Renee) of Adrian, Mich., Keith Snyder (Cathy) of Olin, N.C., and Scott Snyder (Sheila) of Statesville; eight grandchildren and 10 great-grandchildren.
A Memorial Service sill be held Tuesday, March 10, 2020, at 6:30 p.m. in the Nicholson Funeral Home Chapel with Rev. Earl Linderman officiating. The family will visit with friends following the service.
Memorials may be given to The Wounded Warrior Project, P.O. Box 758516, Topeka KS 66675-8516.
Online condolences may be left at www.nicholsonfunerals.com.
Nicholson Funeral Home is serving the family.