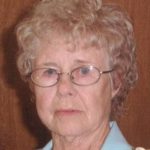 Ethelene Wilkerson Hartness, 80, went home to be with the Lord whom she loved dearly, on March 5, 2020, at Iredell Memorial Hospital with her family by her side.
Born on May 11, 1939, in Alexander County, she was the daughter of the late Florence Wilkerson.
Ethelene had a great work ethic that she taught to her children and grandchildren. She was a charter member of Northview Freewill Baptist, which she loved dearly. She was known as the "Ice Cream Lady" and enjoyed working at the Dairy Bar and interacting with the customers. She loved her family and spending time with them. Ethelene always wanted to make sure her family was safe and that everyone was all right.
Left to cherish her memory is her loving husband of 62 years, Richard Hartness; children, Doris (Ricky) Dellinger, Alisa (Jeffery) Bunton, and Michael Hartness; grandchildren, Crissy (Cary) Shook, Chad Dellinger, Chelsea (Jonathan) Homesley, Ethan (Jessica) Bunton and Logan Beth Hartness; great-grandchildren, Chantz Shook, Cassidy Shook, Carrigan Shook, Kayleigh Dellinger, Chase Dellinger, Olivia Homesley, Lincoln Homesley, Madeline Homesley and two more on the way; brothers, Herb Wilkerson and Kerby Wilkerson; and many other loving family members.
A Funeral service will be held on Sunday, March 8, 2020, at 4 p.m. at Northview Freewill Baptist Church with Pastor Allen Freedell and Pastor Leroy England officiating. Burial will be Monday at Iredell Memorial Gardens.
The family will gather and receive friends from 2:30-3:45 p.m. on Sunday at the church prior to the service.
Memories and condolences may be left for the family at www.nicholsonfunerals.com.
Nicholson Funeral Home is honored to be serving the Hartness Family.