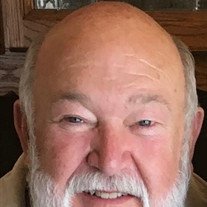 James Jackson "Jim" Burkett Jr., 72, passed away on October 25, 2020, although he will live on in our hearts forever. Jim was born March 13, 1948, in Bluefield, Va. He was raised by Frances Elizabeth Conaway Burkett and James Jackson Burkett Sr. He graduated from Fieldale High school in Fieldale, Va., and honorably served our country for 16 years in the Army as one of the first Green Berets in the Special Forces. He received the Good Conduct Medal, Purple Heart, National Defense Service Medal, Army's Basic Parachutist Badge and Expert Rifle Badge, M-16. After his mission, he leveraged his entrepreneurial spirit to begin a long career in the automotive business.
Jim was lucky enough to meet his wife, Eleanor (Dee Dee), over the phone through a customer service support line and their hearts became forever tied. They were married in Reno, Nevada, on August 21, 1989. They shared an amazing life together, including many adventures.
Jim is survived by so many who love him, including his wife, Dee Dee; and son, Michael Lofgren (Jenny); and his beloved Yorkshire Terrier, Bella; grandchildren, Kyle Lofgren, Kolby Lofgren, and Alyssa Lofgren; his loving mother and step father, Frances Conaway Loftis and Tim Loftis; and siblings, Mary Roe (Tony), Margaret Lawson, Ida Yow, and Steve Burkett (Rhonda); and step siblings, Danny Conaway (Linda), Marvin Loftis, and Michael Loftis (Linda); and numerous nieces and nephews. Jim was preceded in death by his father, James Jackson Burkett Sr., and his brother, Bruce Wayne Burkett.
Jim was an extremely hard worker who found the same reward in his accomplishments at work as others do in their hobbies. He built great connections and relationships. Everyone loved him who met him. He founded a Harley Davidson shop that helped him marry his love of work and zest for life. He loved traveling and riding motorcycles. Jim was well known for his career in the car business. He had a way of selling to his customers that made them feel as valued as a cherished friend. He was an avid boater for years and a few years ago satisfied his love of traveling and adventure by purchasing a motor home to travel the country. Jim enjoyed living life to the fullest and shared many traveling adventures with his wife, Dee Dee. He parked his tires back in North Carolina most recently to be closer to family and begin working again in a part-time customer sales associate role at Lowe's doing what he loved most, serving customers/friends. Jim was a selfless man, loving father, doting grandfather and friend to all that met him. We will all cherish the memories of his smile, laugh and comedic stories forever.
A Celebration of Life will be held at 2 p.m. on Sunday, November 8, 2020 in the Heritage House of Cavin-Cook Funeral Home. The family will receive friends following the service also at the Heritage House.
In lieu of flowers, memorials may be made to Cavin-Cook Funeral Home to help with funeral expenses.
Cavin-Cook Funeral Home, Mooresville, is serving the Burkett family. Condolences may be made to the family at www.cavin-cook.com.