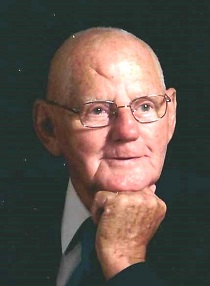 Amos Stroud, 91, of Statesville, N.C., passed away on Monday, October 26, 2020, at his residence. Born in Duplin County, N.C., he was the son of the late Egbert Stroud and Ida Walton Stroud.
In addition to his parents, Amos was also preceded in death by one son, Gary Stephen Stroud; his siblings; and his son-in-law, Robert Harris.
Amos worked with Kewaunee Scientific Corporation and later with Bernhardt Furniture as the Cabinet Room Supervisor for many years. Moving with his family to Statesville when he was fifteen, Amos became a member of Diamond Hill Baptist Church and served faithfully as a Deacon and on various committees over his more than 75-year membership. He was a jack of all trades; he loved yard work, especially his garden. Amos was known for 35 years of locally famous pig pickings.
Amos was a member of the Shriners; a 3rd Degree Mason and served in the United States Army in Korea.
Those left to cherish his memory are his wife of 70½ years, Betty Winecoff Stroud; son, Larry Wayne Stroud; daughter, Donna Stroud Harris, all of Statesville; and his beloved dog, Hank. He is also survived by four grandchildren, Scott (Audra) Harris, David Harris, Timothy (April) Stroud and Kristi Stroud (David) McCann; seven great-grandchildren, Ashley (Cameron) Ayers, Drew Harris, Trent Harris, Parker Harris, Kasie McCann, Kyle McCann and Courtney Stroud.
Mr. Stroud will lie in state at Bunch-Johnson Funeral Home on Thursday, October 29, 2020, from 9 a.m. to 4 p.m. The family will receive friends Friday, October 30, 2020, from 11 a.m. to 12:30 p.m. at Diamond Hill Baptist Church. The funeral service will begin at 1 p.m. at the church with Rev. Larry Holleman and Rev. Jeff Luxon officiating. Entombment will follow at Iredell Memorial Gardens.
In lieu of flowers, the family would like memorial donations made to Hospice & Palliative Care of Iredell County, 2347 Simonton Road, Statesville, NC 28625 or to Diamond Hill Baptist Church, 2320 East Broad Street, Statesville, NC 28625.
The family would like to extend special thanks to Hospice and Palliative Care of Iredell County and Home Instead Senior Care for all the care and assistance they have provided their family.
Online condolences may be left for the family at www.bunchjohnsonfuneralhome.com. Bunch-Johnson Funeral Home is honored to be serving the Stroud family.