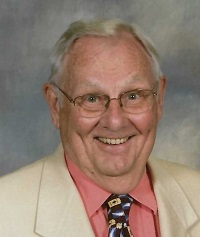 James "Jim" Neal Sande Sr., 94, of Statesville, N.C., passed away Monday, March 3, 2020 at Gordon Hospice House.
Born in Brooklyn, N.Y., on July 16, 1925, he was the son of the late Peder B. Sande and Thora Jacobson Sande.
In addition to his parents, he was preceded in death by his first wife of 52 years, Evelyn; one sister, Sandy Brown; and one grandson, Daniel Sande.
Those left to cherish his memory are his wife of 22 years, Josephine Bunch Sande; three sons, James Neal Sande (Rosemary) of Stonington, Conn., Peter John Sande (Judy) of Mobile, Ala., and Martin Ken Sande (Ruth) of Houston, Texas, and two step-sons, Robert Bunch and George Bunch of Statesville. Jim is further survived by four grandchildren, Rueben, Tabitha, Rachel and Jared; and six great-grandchildren.
Jim proudly served in the U.S. Army during WWII. He served in Italy and Germany. He worked as a contractor in residential remodeling. He was a member of Concord Presbyterian Church, where he served as a Church Leader, Sunday school teacher and was a member of the church choir.
In retirement, Jim and Jo enjoyed traveling to area nursing homes, singing and entertaining.
The family will receive friends Friday, March 13, 2020 from 6 to 8 p.m. at Bunch-Johnson Funeral Home.
The funeral service honoring Jim's life will be held on Saturday, March 14, 2020, at 11 a.m. at Concord Presbyterian Church with Pastor Liz Troyer and Rev. Fred Sanford officiating. Burial with military honors will follow in the church cemetery.
Memorial donations may be made to the American Cancer Society at www.cancer.org or to St. Jude Children Hospital at www.stjude.org.
Online condolences may be left for the family at www.bunchjohnsonfuneralhome.com.
Bunch-Johnson Funeral Home is honored to be serving the Sande family.