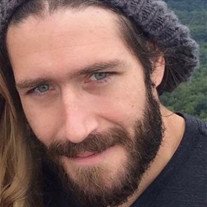 James Tyler Morris, 36, of Mooresville, N.C., passed away on Friday, December 4, 2020. He was born on August 30, 1984, in Southern Pines, N.C., to Amy Carbin Osorio and Jason Morris.
Tyler loved his dog Noam, and he always enjoyed his visits with his daughter. He enjoyed being outdoors in nature, farming, hunting mushrooms, and playing disc golf with his brothers and friends. He loved music and was a very philosophical guy, an amazing creative cook, and he worked in several restaurants. His family was everything to him.
He was preceded in death by maternal grandfather, Dwight Edward Carbin; paternal grandfather, James Leroy Morris; and uncle, Thomas Edward Campbell.
In addition to his parents, he is survived by his daughter, Audrey Nicole Morris; sisters, Catherine Morris, Maggie Osorio and Madison Morris; brothers, Ryan Albert and Thomas Osorio; maternal grandmother, Georgianna Carbin; paternal grandmother, Janice Wheeler; and numerous aunts and cousins.
The family will receive friends on Wednesday, December 16, from 5 to 7 p.m. at Cavin-Cook Funeral Home with a Celebration of Life following at 7 p.m. at Heritage House of Cavin-Cook Funeral Home with Eddie Karriker officiating.
In lieu of flowers, memorials may be made to Cavin-Cook Funeral Home, P.O. Box 977, Mooresville, NC 28115, to help with funeral expenses or to your local humane society.
Cavin-Cook Funeral Home & Crematory, Mooresville, is serving Tyler's family. Condolences may be made to the family at www.cavin-cook.com.