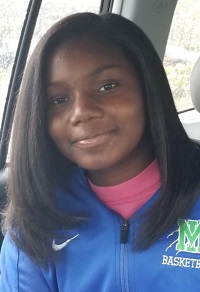 Miss Jazmin Mauriana Peet, 13, of Charlotte, N.C., was born on February 15, 2007, at Davis Regional Medical Center in Statesville, N.C. SHe passed away on May 13, 2020. She is the daughter of Dani Nekeidra Tabor and Jeffery Mitchell Peet.
Jazmin attended Christ United Methodist Church for pre-school, after-school and summer care. She attended Mountain Island Charter School from kindergarten and excelled. She received the highest marks in school and highest accolades from her teachers and peers.
Active in sports (soccer, archery, karate, softball and basketball), artistically gifted (graphic artist, animation, recorder, trombone, piano, percussions, drums and vocals — if the mood hit her), social butterfly (ballet, dances, Girl Scouts, summer camps and talent shows), travel warrior (family reunions, New York, Miami, Texas, California, Mexico, Virginia, Florida, Myrtle Beach — some of her favs) and so much more. She was blessed with a lot in a short time.
She was preceded in death by death by her grandparents, Jeffrey Daniels and Lucille Peet.
She leaves to cherish the memory of her life, sister, Senteria Corry of Statesville; brother, Gregory Goodman of Statesville; grandparents, Danny Tabor, Miami, Edna Tabor of Statesville and William Campbell of Statesville; uncles, Maury Tabor, Dallas and Gary Peet of Statesville; aunts, Carrie Sherrill (Eric) ofStatesville, and Erin Downer and Krisena Bridges, both of Raleigh; cousin/hairstylist, Teddie Campbell of Statesville; and best friends Anaya, Patience, Issabella, Zoe, Lauren and Asia, all of Charlotte. Those who provided extra support in her time of need include The Tabors, The Lattens, The Muhammeds, Torrence O'neal, Tammie Jackson, Ms. Farrid, and Jen Wood. She is also survived by a host of great aunts and uncles, cousins, other relatives and friends.
We celebrate Jazmin Mauriana Peet – Always and Forever
Jazmin will lie in state Wednesday, May 20, 2020, from 9 a.m. to 12 noon at Bunch-Johnson Funeral Home. The family will hold a Private Service. Online condolences may be left at www.bunchjohnsonfunerahome.com.
Bunch-Johnson Funeral Home is serving the family.