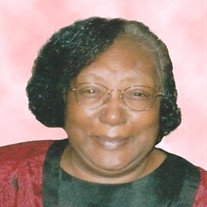 Mrs. Jean Ellen Williams Gladden, 84, of Statesville, N.C., passed away on Wednesday, November 4, 2020, at the Accordius Health of Mooresville.
Mrs. Gladden was born in Rowan County on December 19, 1935, and was the daughter of the late Gene Williams and Sara Douglas. She was a graduate of Rowan County schools and was a homemaker. Mrs. Gladden was a member of Gray's United Church of Christ.
Mrs. Gladden was married to Frank Chambers and following his passing, she later married Arthur Gladden, who also preceded her in death. Mrs. Gladden enjoyed sewing, coloring, puzzles and simply getting in a car and riding.
In addition to both of her husbands, she was also preceded in death by one son, Jerry Lee Chambers; and one grandson, Erico McCullough.
Left to cherish her memory are seven children, John F. Williams (Andrea), Richard Chambers (Susan), Frank Chambers Jr., Mark Chambers, Melvin T. Chambers (Crystal Stevenson), Ruth W. Mattox, and Mary Foster (Barion). She is also survived by 22 grandchildren, Lisa Miller (Rico), Ricky Parker Jr., Matthew Jr. Foster, Latisha Hopkin, Joshua Foster, Vincent Mattox (Tara), Chan Mattox (Nicole), Algernon Christie, Mario Williams, Anthony Jerome Williams, Adriene Jones, Jonathan Williams, Alisha Baldwin (Jamison), Keon Miller, Curtis Ware (Jaynacia), Calvin Caldwell, Corey Caldwell, Mark Oglesby, Andrill Wallace, Tara Rivers, Audrea Sloan, and Dundrielle Blakeney and 47 great-grandchildren.
A service to celebrate the life of Jean Gladden will be conducted at 1 p.m. on Wednesday, November 11, 2020, in the Nicholson Funeral Home Chapel with Pastor Dale White officiating. The family will visit with friends from 11:30 a.m. until 1 p.m. at the funeral home.
You may watch the service live at https://www.oneroomstreaming.com/view/authorise.php?k=160471605784559
Online condolences can be made to the family at www.nicholsonfunerals.com.
Nicholson Funeral Home is serving the family of Mrs. Jean Gladden.