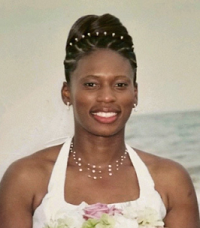 Mrs. Jeneen Anita McCall Simmons, beloved daughter of Leola Alberta Davis McCall and the late Willie Charles McCall, was born in Conway, S.C., on April 9, 1971. She entered into eternal rest on Tuesday, July 28, 2020, at her home.
She was a graduate of Conway High School in Conway, S.C., Southern Technical Community College in South Carolina and received a Bachelor's Degree from Florida State University. In addition to her father, Willie Charles McCall, she was also preceded in death by her sister, Amy McCall; her mother-in-law, Beulah Lawson; and sisters-in-law, Evelyn Richardson and Linda Fountain.
She was united in marriage to Percy Lee Simmons, who survives.
She leaves to cherish the memory of her life, in addition to her husband Percy and her mother, Leola D. McCall of Panama City, Fla., her children, Kenneth Sherman Jr. of Midland, Texas, Keith Sherman of Hobokin, N.J., Kenisha McCall and Kennita (Kalvin) McCray, both of Winston-Salem, N.C., and Whitney (Wendy) Romage of McDonald, Georgia; two sisters, Clarissa Tony) Livingston of Conway and Iris McCall of Panama City; father-in-law, J. D. Lawson of Yazoo City, Mo., Dennis (Helen) Fountain of Wampee, S.C., Robert Fountain of Gulf Port, Mo., Willie Fountain of Benton, Mo., Willie Fountain of Benton, Mo., Fredrick Fountain of Jackson, Miss., Janice (Oliver) Pleasant of Jackson, Miss., and Jason (Kim) Lawson of McClain, Texas; ten grandchildren, Arianna McCall, Jediah Romage, Jayden Morriguois, Trey sherman, Aniya Romage, Noah Romage, Antonio Smith, Kylee Sherman, Amisha Smith, Luna Foxworth and Kalayiah McCray; and a host of nieces, nephews, cousins, other relatives and friends.
Celebration of Life Services will be conducted Saturday, August 1, 2020, at 6 p.m. at Rutledge and Bigham Funeral Home.
Rutledge & Bigham Funeral Home is serving the family.