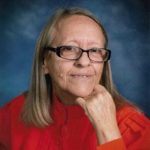 Mrs. Glenda Elizabeth Benge Kelley, 69, of Statesville, N.C., died Sunday, July 26, 2020, at her home. Born in Iredell County on December 24, 1950, she was a daughter of the late Dewey Benge and Bertie Roseman Benge.
She was a homemaker and enjoyed her church, Monticello Baptist Church, and gospel music. She was a Godly woman.
Her husband, Hubert Kelley, died in 1999. Survivors include two daughters, Jennifer McCarty (Justin) and Kitty Kelley; step sons, Frankie and Bill Kelley; her sister Doris; five grandchildren; one great grandchild; and her best friend, Marie (Bossie) Miller.
The family wishes to thank her church, her Sunday School Class, The Christian Hearts and Ann DeHart and her family for all their love.
Services celebrating her life will be conducted at 11 a.m. on Sunday, August 2, at Monticello Baptist Church as a part of the worship service by Dr. Bobby Henderson. Burial will be private.
Condolences may be sent online to the family to www.nicholsonfunerals.com. Memorials may be given to Monticello Baptist Church, P.O. Box 5863 Statesville, NC 28687.
Nicholson Funeral Home is serving the family.