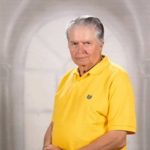 Jerry Michael Pickrel, 75, of Troutman, N.C., passed away on Friday July 3, 2020, at Carolinas Medical Center.
Jerry was born September 12, 1944, to the late Lester and Mildred Pickrel. He served in the U.S. Army during the Vietnam War. After returning home he earned his master's degree at UNC Charlotte. He was a gentle man who loved animals, shag dancing and traveling.
In addition to his parents, Jerry was preceded in death by his brother, Larry Pickrel. He is survived by his wife, Carol Pickrel; daughters, Lisa Fowler (Erick) and Rachel Shelton (Brett); and grandchildren, Blain Fowler and Addison Shelton.
Services will be held at a later date.
In lieu of flowers memorials can be made to the Iredell County Humane Society, 2106 Charlotte Highway, Mooresville, NC 28117.
Cavin-Cook Funeral Home & Crematory, Mooresville, is serving the family.