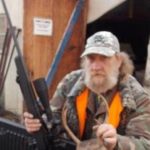 Jessie James Gentry, 58, of Statesville, N.C., passed away to be with Our Lord on Saturday, May 23, 2020, at Wake Forest Baptist Medical Center in Winston-Salem following an ATV accident. Born October 3, 1961, in Statesville, he was a son of the late Jessie and Margaret Wallace Gentry.
Jessie was a retired truck driver now making deliveries for God. He enjoyed hunting and fishing, but most of all, he loved helping his fellow man. Jessie had a heart of gold and was a loving husband, father, grandfather, uncle, and friend. He was an organ donor, potentially saving three lives by giving them life in return.
Jessie is survived by his loving wife, Mechelle Maness Gentry; sons, Robert Younker, Justin Burton, Terry Connell and John Souther; grandchildren, Katie Wallace and Trey Souther; sister, Judy Gentry; nephew, Randy Gentry; many great nieces and nephews and many great friends. May he go drive for God now.
Services to be announced at a later date. The family will host a cookout following at Jessie's home, 821 Wilmington Avenue, Statesville, to celebrate his life. All are welcome to attend.
In lieu of flowers, memorials may be made to the Gentry family to assist with funeral and medical expenses.
Cavin-Cook Funeral Home, Mooresville, is serving the family of Mr. Gentry. Condolences may be made to the family at cavin-cook.com.