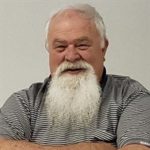 Johnny "Randy" Randall Compton, 66, of Olin, N.C., passed away August 2, 2020, at Iredell Memorial Hospital in Statesville, N.C.
He was born June 1, 1954 in Iredell County, N.C., the son of the late Johnny Blaine Compton and Adell Lambert Compton.
Randy enjoyed being outdoors gardening, riding his tractor, tending bees or even riding a motorcycle. He had a great sense of humor, could captivate you with a story and loved to listen to bluegrass music.
Most of all he was a man of faith and a loving brother, uncle and friend who will be missed by all.
Left to cherish his memory are his four sisters, Pat "Trisha" Spears, Teresa "Chub" Cribbs (Vic), Lisa Compton, and Amie Ladd and husband Dale; nieces and nephews, Justin (Kelley) Spears, Candice (Heath) Rogers, Sara (Ian) Wigley, David (Michelle) Cribbs, Jennifer Compton, Addie (Benjamin) Ladd, and Luin (Taylor) Ladd; great nieces and nephews, Landon, Isaac, Audrey, Katelyn, Lily, Lydia, Logan, Tripp and Krash; and numerous other loving family and friends.
A funeral service will be held at 11 a.m. on August 7, 2020, at Nicholson Funeral Home, 135 E. Front Street, Statesville, NC 28677. The family will receive friends one hour prior to the service at the funeral home. Burial will follow at Calvary Baptist Church Cemetery.
Please share memories and condolences with the family at www.nicholsonfunerals.com.
Nicholson Funeral Home is serving the family.